Using todo.vu's Kanban-Style Task Dashboard
5 minute read.
Combining a simple workflow layout (Kanban) with task lists, todo.vu's Task Dashboard helps you visualise your work, organise what you need to do, and track every detail in a way that makes sense to you.
Spend less time planning and more time where it matters.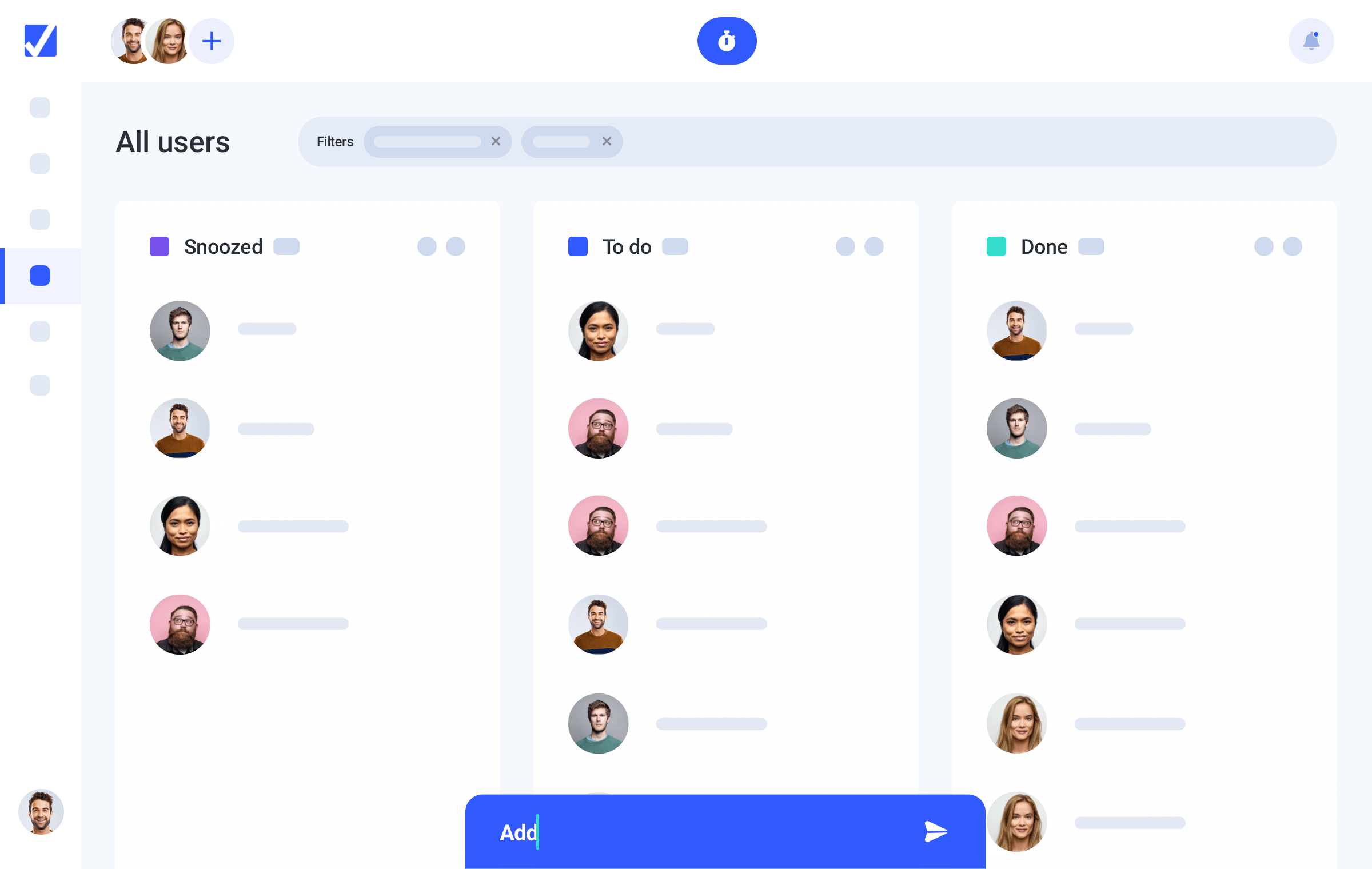 Here's how to use todo.vu's Task Dashboard.
Understand the layout
By default, your todo.vu Workspace will open automatically to your Task Dashboard page whenever you log in. When you navigate away from the Task Dashboard, you can return to it at any time by selecting the top icon on the sidebar to the left of your Workspace; the 'Tasks' option.
On the Task Dashboard, your tasks are arranged into three clear columns according to their workflow states: 'Snoozed', 'To do' and 'Done'. Using this simple Kanban view, you can easily see which tasks are in the pipeline, which need immediate attention, and which are complete.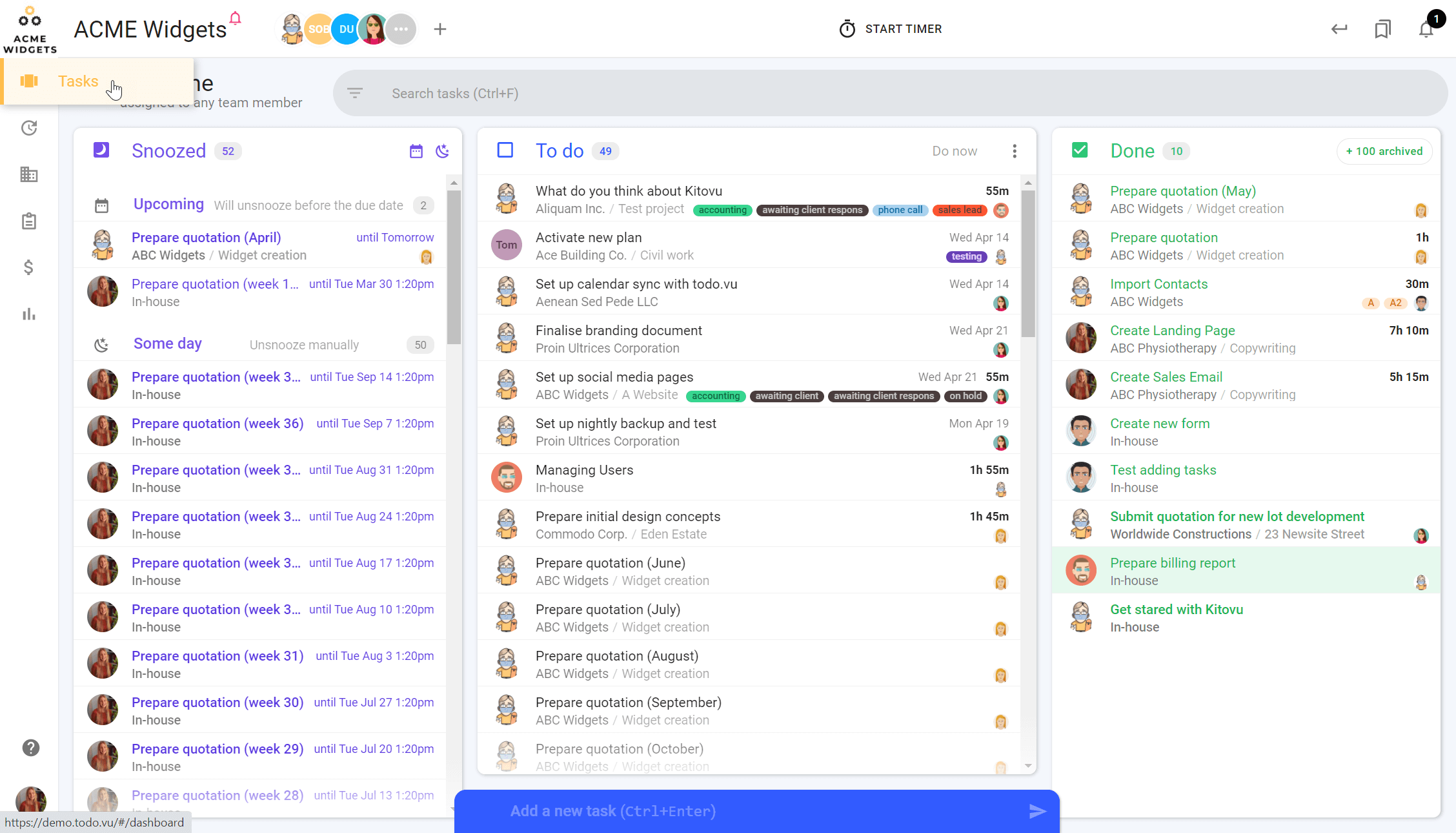 If you work in a team, you can view the same tri-column layout for tasks related to any team member or, for a complete overview, all of your team members at once. Just click your name or your Avatar above the left column to choose your view.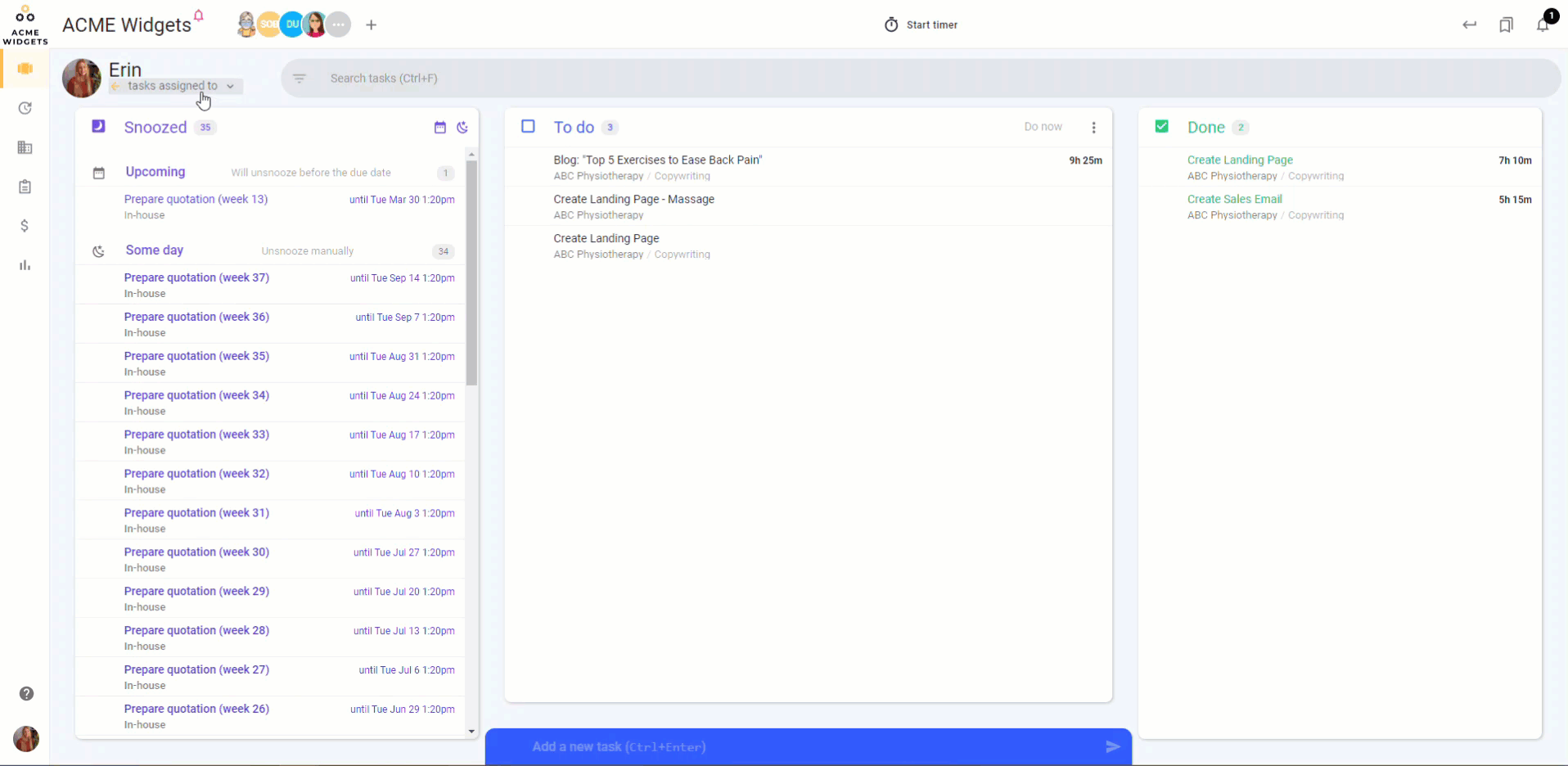 Your dashboard, your way:
If you would like to adjust your column layout, you can click the angle bracket at the top of the left or right columns. (The angle bracket will appear as you move your cursor over the headers.)
This will change your 'Primary' column; that is, the column that appears in the middle.
To make better use of screen space, you can expand the Primary column and enable 'Focus mode'. Simply click on the angle brackets that appear on the middle column header.
To disable Focus mode, simply click the brackets again.
Quickly add tasks
todo.vu's Task Dashboard allows you to add a task directly to any workflow state — 'Snoozed', 'To do' or 'Done' — without leaving your task listing. All new tasks are added to your Primary column (remember, the middle one), which is set to your workflow state of choice.
For example, if you have an idea or receive a request while managing a separate task, you can simply add it as a task to your 'Snoozed' column and return to it later.
In the taskbar at the bottom of your dashboard, just type your task title, hit [Enter], and that's it.
Or, hold [Ctrl]+[Enter] after you type the title to add more details, such as a client or team member.

You can also start your timer directly in the task listing on the dashboard; there's no need to open the task itself.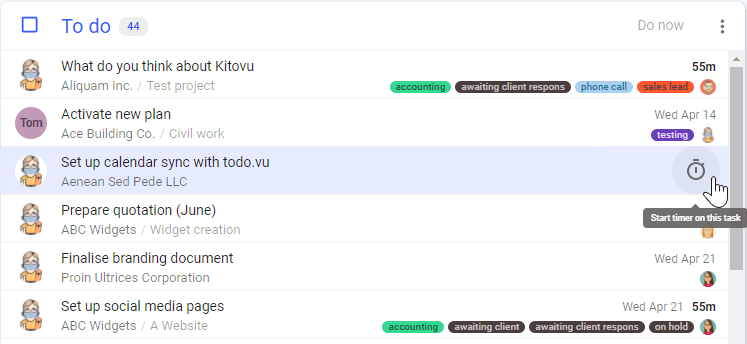 Drag n' drop tasks
Now that you understand the Task Dashboard layout, let's discuss how to organise your tasks within the columns themselves.
You can only sort tasks within the main workflow state, the primary column, unless you are moving tasks between workflow states with the new drag n' drop function.
Click the settings icon at the top right-hand side of your primary column to see, and modify, options for sorting tasks in this column.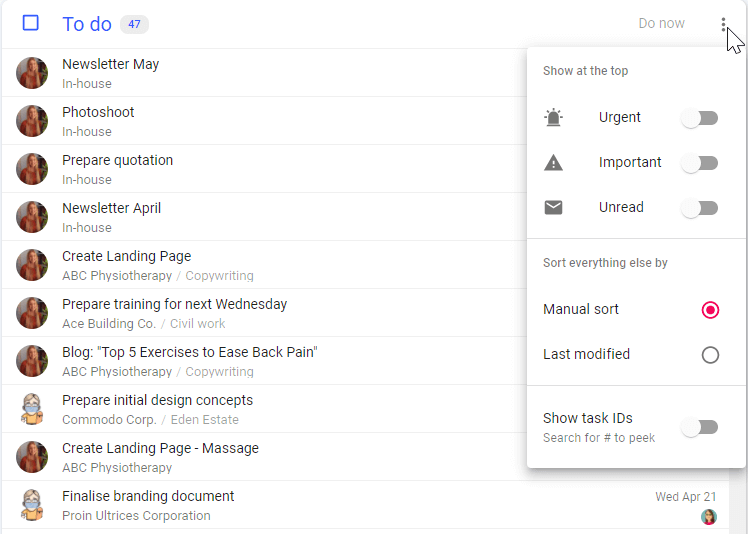 Drag n' drop:
By default, the 'Manual sort' option is selected. That means you can move any of your tasks in and between columns simply with your mouse, and organise your work in a way that makes sense to you.

Last modified:
If you enable the 'Last Modified' option, the most recently modified task will appear at the top of your task list in your Primary column, followed sequentially by each previously modified task. Drag n' drop will be disabled.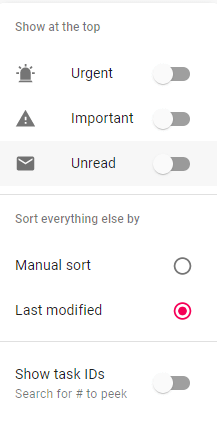 Urgent, Important & Unread:
If you enable the Urgent, Important or Unread options, you will see any tasks labelled as such at the top of your task list in your Primary column. Never miss an important message or a task deadline again!

See clearly: Your due dates and Task labels will be clearly visible on every task listing on the new task dashboard. For an even cleaner, clearer overview of your work, disable the option to show Task IDs.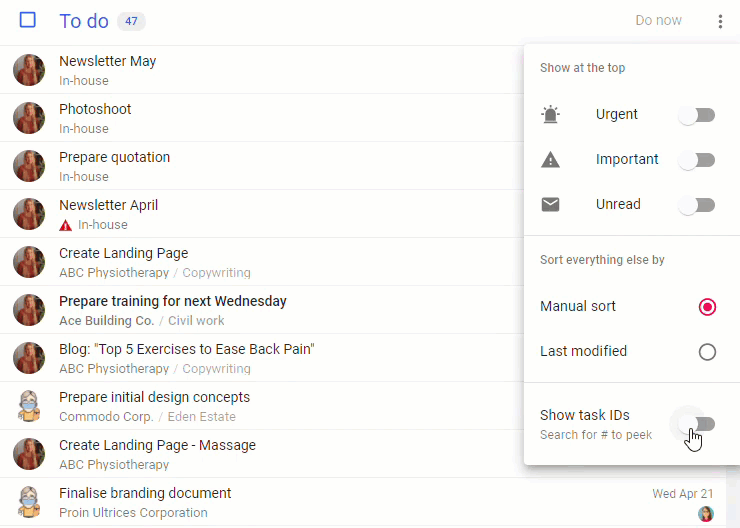 Filtering for tasks
When you manage multiple clients, projects, tasks and team members, not to mention different labelling systems, it can be hard to see everything that you need to do, especially all in the one place.
That's why the Task Dashboard incorporates a comprehensive, but easy-to-use, filter function.
With the filter function, you can choose to see the entire workflow — that is, all tasks 'Snoozed', 'To Do' and 'Done' — related to any context you want. Whether that context is a specific Project, Client, team member(User) or Label, or a combination of any of these, you can see all tasks related to this context in seconds.
You can even filter by keyword!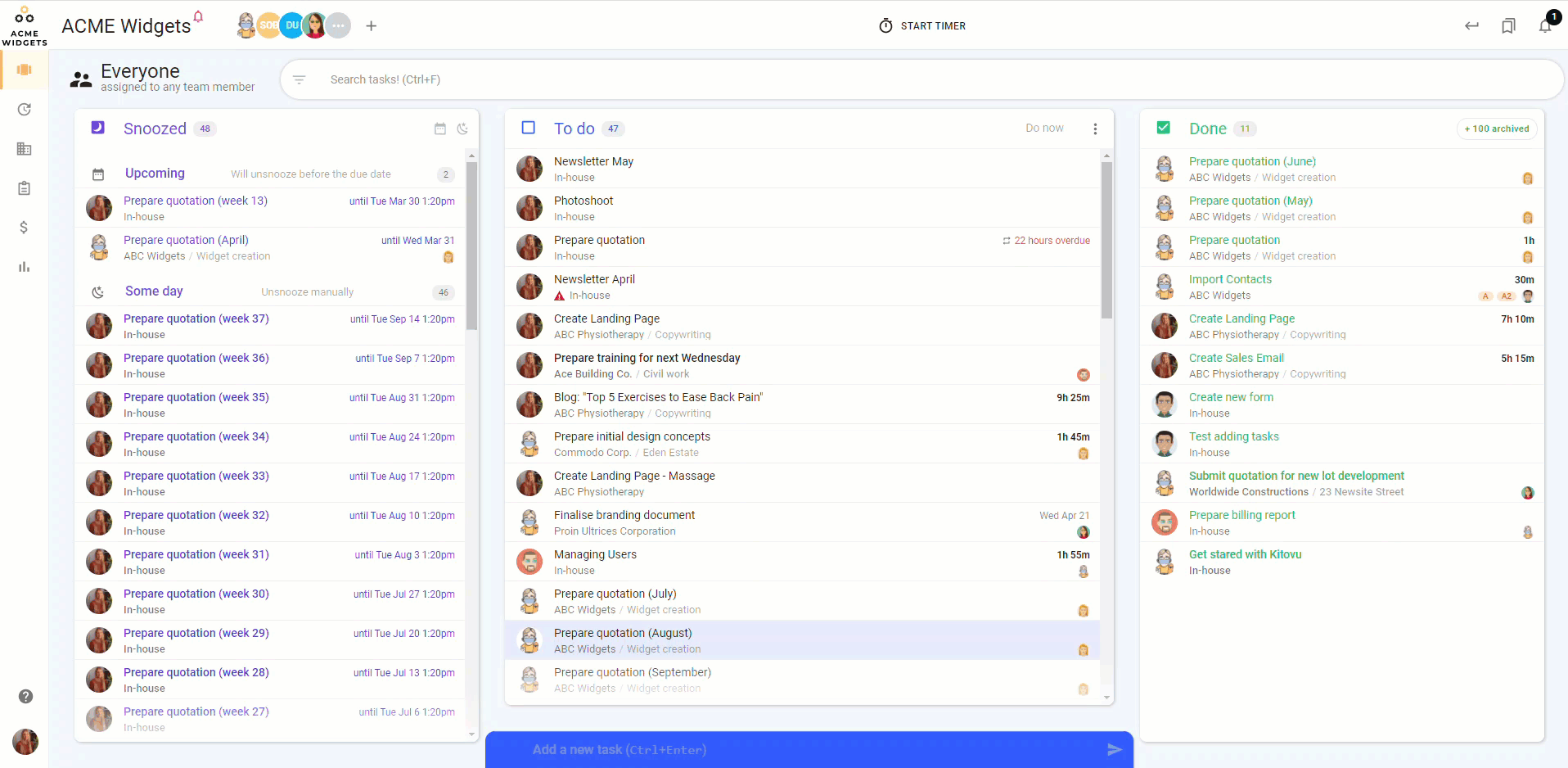 This way, it's easy to see and manage everything you need to do all in one place, no matter how many clients, projects, tasks, or team members you have.
There's no need to switch between different dashboards, systems or platforms. You can also filter all tasks assigned, requested and followed by certain team members.
A bird's-eye view: No matter your filters, the Task Dashboard's layout will stay the same, showing you at a glance which tasks are 'Snoozed', 'To do' or 'Done' for any specific context.
And, everything syncs to the mobile app! That means the same filtered context will show across all of your devices, no matter which you are working from, making it super simple to pick up where you left off.
Batch edit tasks with minimal frustration. Select multiple tasks to reassign, mark as important, or change their label, client, project, workflow state or due date. Simply select each of the tasks you need to edit and choose from the options on the top left.
That means if a team member is sick, you can easily see every task they have been assigned and reassign these to another team member in just a few clicks.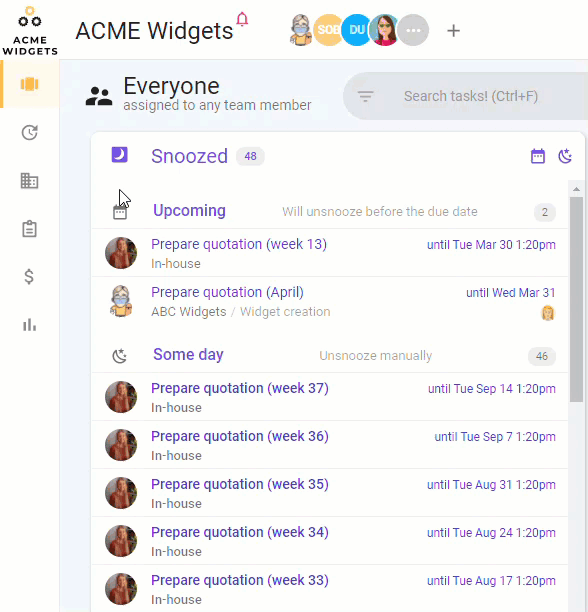 Keyboard shortcuts
So that todo.vu is quick and easy to navigate, we have implemented several keyboard shortcuts, for example:
[Ctrl]+F – Will place your cursor in the context filter (search bar)
Now, type in anything to search Clients, Projects and Labels. Use the arrow keys to choose your desired match. Press [Enter] to select, or [Backspace/Delete] to remove items from the filter.
[Crtl]+U – Open the User filter modal.
Now, type in a User. Use the arrow keys to choose your desired match. Select a User with [Enter].
[Crtl]+[Enter] – Will place your cursor in the Task adder.
Type in your task then press [Enter] to quickly add a task. Or, press [Shift]+[Enter] to add more details to the task. To modify the more advance task settings, press [Ctrl]+[Enter] after you finish typing in your task.
FAQs
Have questions? Here are some answers we've prepared earlier. If you can't find what you need, or would like more support, please contact us at tom@todo.vu.
I've been using the old task listing. Can I keep doing so?
We don't think you'll want to! However, the old task listings will stay live for some time. We encourage you to try the Task Dashboard as soon as you can and have created this guide to make the transition easy.
Where can I find Archived tasks?
Archived tasks are displayed within the Done tasks column and hidden by default. Archiving tasks is generally done to hide them from everyday use and reduce clutter, so we decided it was not worth an entire column.
Where do I find Draft tasks?
Draft tasks are shown inline in the To do column. They are coloured with no task number. Only the task creator can see their own draft tasks.
When I reorder tasks, does everybody see the same order?
Yes, all tasks are given an order sequence value which follows the task, so everybody will always see the tasks in the same order (if they are viewing in Manual sort mode).
How can I get to a task if I know its ID?
If you type a task ID into the dashboard filter prefixed with a hash "#" then it will provide a link directly to the task.