See what you can achieve for 90% less
Integrated CRM, project management, time tracking and billing for freelancers, consultants and teams.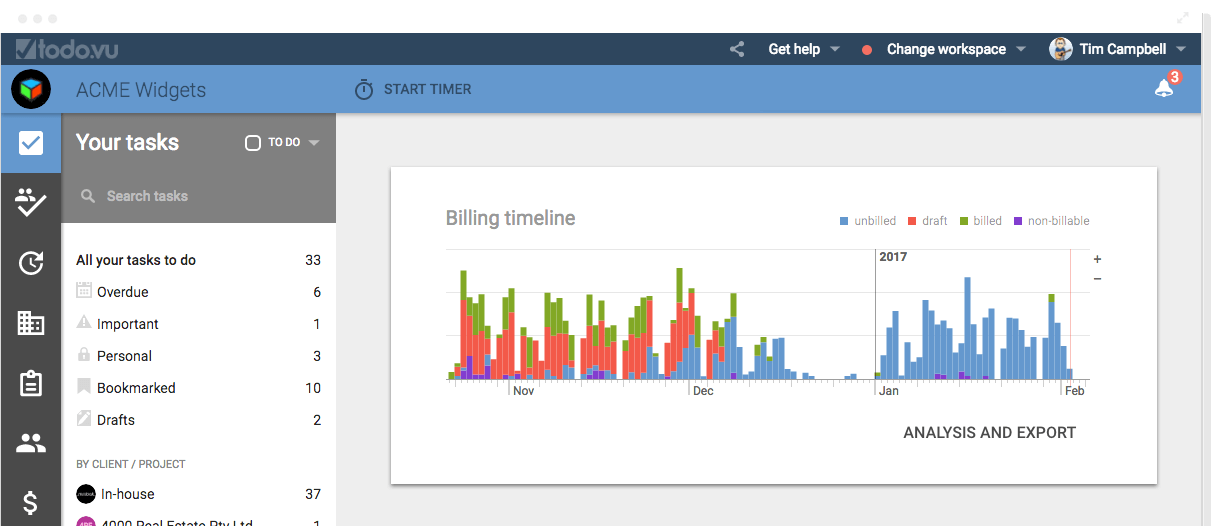 90% Cheaper than Wrike
todo.vu is a Wrike alternative offering a similar range of core features.
Wrike advertises "Starting at $9.80/user per month" but that is quite deceptive. They employ some very cruel restrictions that force you to pay for more than you really need.
Firstly, on their lowest priced plan, the minimum number of users you are allowed to pay for is 5 – even if you work alone. They then force you to purchase 'packages' of 5 users – so if you have 6 staff, you pay for 10, if you have 11 you pay for 15!. This gets even worse once you get past 30 users – you are then forced to purchase packs of 10 at a time, so if you have 31 staff you pay for 40.
And if your team has 20 or more users then you are not even allowed to use their cheapest plan, you are forced to upgrade to their Business Plan at a higher rate of $24.80/user.
Oh, I also need to mention that all these prices are "billed annually" with no refunds. So if your staff leave, you continue to pay for the rest of the year for seats you don't need.
The absolute minimum commitment you can make to Wrike is 5 users on the $9.80 plan for 12 months i.e. $588. Compare that with $5 for todo.vu!
So let's look at a couple of real-world cases to see what this looks like.

Cast study:
Solo Freelancer requiring task management and time tracking
The minimum Wrike plan that offers time tracking is their Business plan.
The Business plan is billed at $24.80/user/month. But to make this worse, even if you are a solo user, Wrike forces you to pay for a minimum of 5 staff!
So this means a minimum commitment of $124/month for a solo Freelancer to be able to manage their tasks and track time. Your first bill from Wrike will be $1488!
Compare that to todo.vu's commitment of $9/month for our Business Time plan billed monthly. Your first bill will be $9.
That's a saving of 93% per month. Your upfront commitment is ~200x lower!
So what's the catch?
While Wrike and todo.vu serve similar purposes, they are not identical.
todo.vu is ~90% cheaper than Wrike, but nor is it bloated with all the features that Wrike has, so it's not completely fair to compare them only on price. I would recommend that you look closely at the features of both products to decide what is important to you before making a final decision.
todo.vu is still young and growing and we are adding features based on user feedback all the time. Over time we expect to close the gap on Wrike, but we also don't want todo.vu to turn into a bloated complicated and expensive product.
todo.vu will always deliver the critical functionality you need to run your business in a simple intuitive way at a very affordable price.
If you are looking for an alternative to Wrike then you should check out todo.vu
MANAGE ALL YOUR WORK IN
ONE PLACE
Traditional project management systems focus only on project work and fail to recognise the other in-house and personal tasks that impact on your daily productivity.
todo.vu is the right tool for you whether you're a consultant, contractor or freelancer, or small agency needing to track work across multiple in-house and client related projects.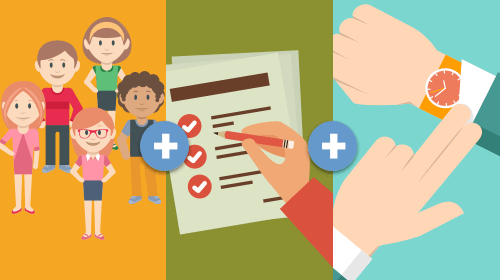 ALL IN ONE SOLUTION FOR
PRODUCTIVITY
No more double entry. No more headaches trying to link separate systems that just don't quite work right.
todo.vu brings all your customer management and project management into one place, with beautiful built in time tracking and billing.
CRM
todo.vu provides a simple but effective way to keep track of all your customers and their contacts.
TASKS
Track everything you or your team does – in-house tasks, personal tasks, and client project work all in one place.
TIME TRACKING
Track your time directly on your tasks with simple, intuitive, visual tools. Most other systems only track time to a project level.
TIME BILLING
Set billing rates on projects and staff. Select which time is billable. Raise invoice reports and track payments. Provide clients with detailed time reports.
PRICING
FREE FOR FREELANCERS
SOLO FREE
ideal for freelancers
CRM

Task management

Time tracking

Reports & Billing

100Mb Storage

No credit card required

One staff user
TEAM PREMIUM
perfect for small teams
CRM

Task management

Time tracking

Reports & Billing

2Gb Storage per user

Priority support

Capped at $55/month*
BUSINESS TIME
integrated tasks-time-billing
CRM

Task management

Time tracking

Reports & Billing

2Gb Storage per user

Priority support

Capped at $99/month*
*Never pay more than the capped price, no matter how many users you add.
All workspaces start with a 14-day trial period with all features enabled and unlimited users.
During the trial, we reward you for exploring todo.vu by giving credit for performing various actions in your workspace. It's like an Easter egg hunt!
After the end of the trial, the credit you have earned will reduce the cost of your subscription.
todo.vu was Awarded Best Value by Capterra for 2018 in the category of Task Management software.
This is a significant achievement and this recognition reflects our commitment to providing a fully featured suite of tools for small businesses at a competitive price range.
As a small design company, I had been searching for a project management tool that was easy to use and navigate, that had all the segments and features I needed in it, and most importantly could fit my budget and scale as I grew. todo.vu has hit the sweet spot on all fronts. It gives us just enough flexibility to communicate and log what my team needs to in order to get the job done, but enough framework so that nothing falls through the cracks. The desktop and mobile interfaces are very user-friendly, so management and updates can be handled virtually anywhere. Checklists, Timelines, File Handling, Due Date, Delegation, Status, all the features are there!
Jon M. Perry
Finding a task manager that was cost effective and that met our requirements for our agency was difficult due to the amount of options in the market! That's until we found todo.vu. It's UX is extremely easy to navigate for a growing team and the client list and email integration is perfect for the 100+ clients and 230 odd tasks a day for us. After 1.5 years utilising the platform we still get excited when developments are made which make our work easier.
Angelo Palioportas
A clear workflow and team collaboration is vital within our business. Since using todo.vu, workflow productivity, collaboration and transparency within our teams has increased. We don't know what we did without it!
Christina Christophi