Creating tasks
Tasks are the cornerstone of the todo.vu platform. Once your tasks are created, you can, track your time, record your activity, bill for that time, and share information with colleagues or clients.
Tip: todo.vu is not just for managing project tasks. You can create tasks for any type of activity, such as a bill to be paid, a phone call you need to return, a meeting you need to attend, sales leads, and any odd job you need to get done around the office. After all, you can only really start to plan for productivity once you capture your entire workload!
Here's everything you need to know about creating tasks in todo.vu.
Adding a task
Within your Task dashboard, you can add a task to any of the three columns, or workflow states, 'Snoozed', 'To do', or 'Done'.
However, you can only add tasks to a workflow state when it sits as the middle column, what we call the 'Primary' column.
So, to change the Primary column, click the chevrons (> or <) that appear as you hover your mouse over the current left or right column headings of your three task listings within the Task Dashboard.
Quick add
When you are ready to add your task, simply hit [Ctrl]+[Enter], or place your cursor in the Task Adder at the bottom of your screen. Type in your task.
Now, you can do one of three things:
To quickly add the task, simply press [Enter].
To add a short description, press [Shift]+[Enter]. Then, create the task by pressing [Enter].
Press [Ctrl]+[Enter] to be taken to a new page to add more details and continue creating your task.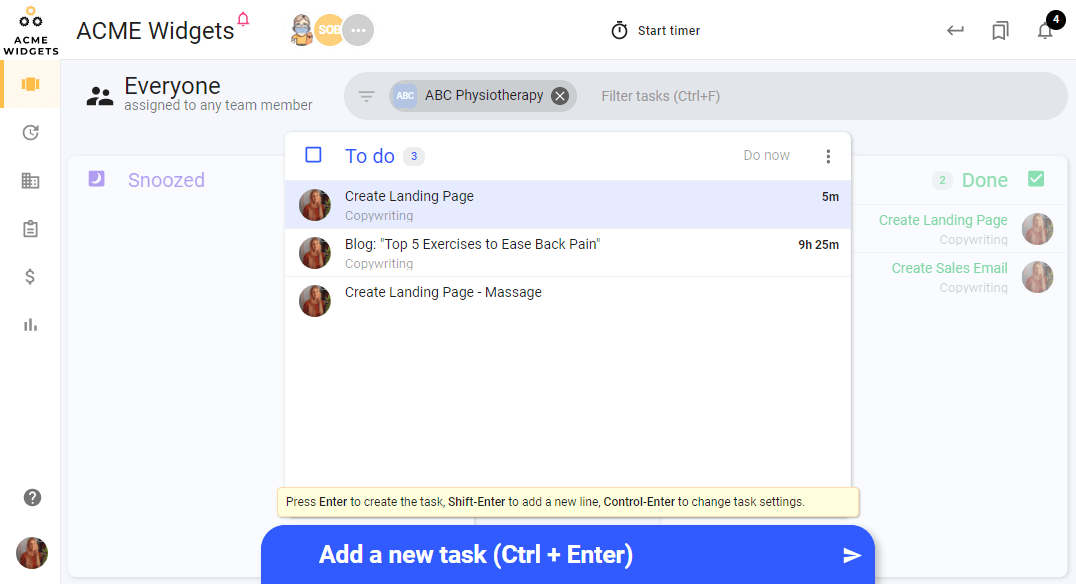 Add more details to the task
You can add more details to a task either by pressing [Ctrl]+[Enter] from the Task Adder as you create the task, as above, or by clicking on an already created task.
In both instances, you will be taken to a new page to add further details to the task.
When you come to the new page from the Task Adder, your new task will be in draft mode, only visible to the task creator, until you click 'Create task' at the bottom left-hand side.
If you abandon a task in draft mode, todo.vu will keep the draft in the column, or workflow state, in which it was created. Delete the draft task by clicking on the task to open it. You will see the option to 'Discard' at the bottom right-hand side
Title
By default, your cursor is placed in the task Title field as soon as you land on your new task page from the Task Adder.
As you have already named your task in the Task Adder, you may not need to make any more changes here.
Remember, the only text that is pulled through from this page and shown on tasks within the Tasks overview page (your task dashboard), is the task title.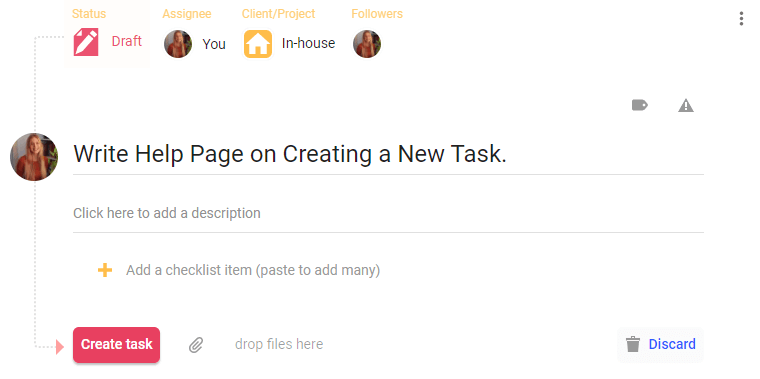 Description
If you had previously added a description in your Task Adder with the keyboard shortcuts discussed above, you may not need to add more details here.
If you had typed in your task title only and hit [Ctrl]+[Enter], you may want to add further information about your new task here.
Feel free to add as much detail as you would like.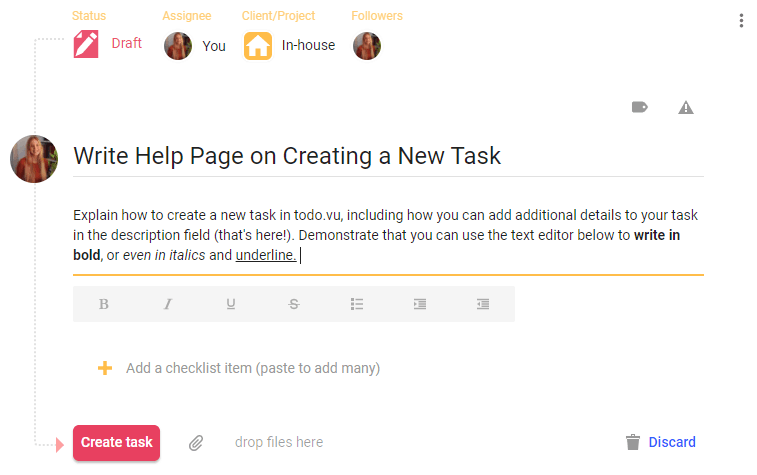 Checklist
Seldom is a task as simple as one step. The Checklist allows you to break down your task into smaller steps, so you can track your progress and mark off the little wins.
Type in your first checklist item, perhaps "Research", and hit Enter. Add as many as you like.
Tip
You can also copy/paste a list of items into the Checklist field, and these will be automatically converted to a checklist. This works with plain text lists, HTML lists and a copy/paste from spreadsheets.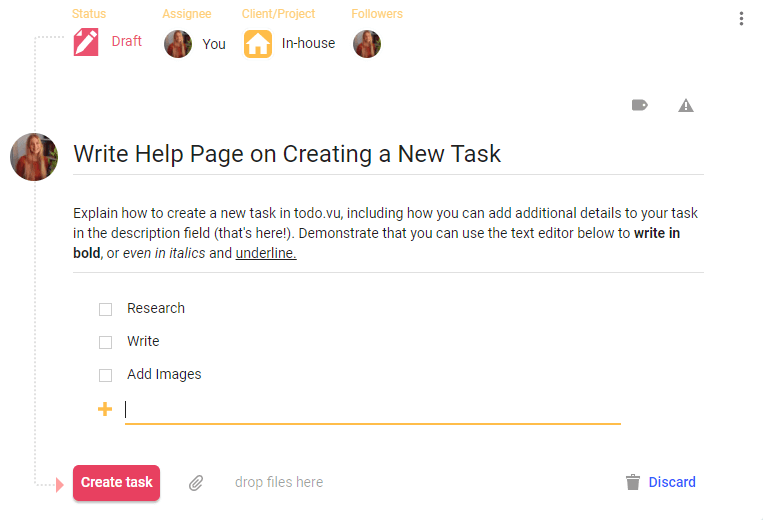 Attachments
Click on the attachment icon to upload any documents to your task. Alternatively, you can drag and drop multiple files onto the task to upload.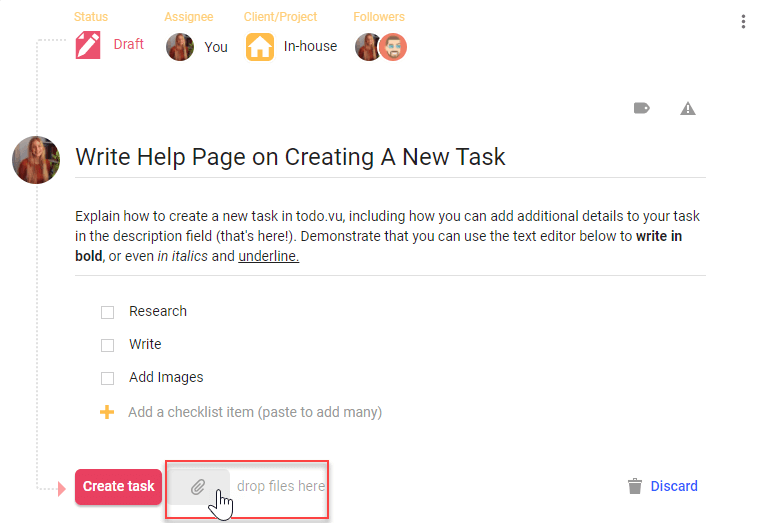 Assignee
Next, you can add an assignee to your task by clicking on 'Assignee' at the top of the task.
The assignee is the person who is responsible for the task. By default, the person who creates the task is the assignee. However, if you want to assign the task to someone else, simply click on 'Assignee' at the top of the task, and choose a team member from the drop-down list.
You can also invite a new collaborator or team member to become the task's assignee, provided you haven't already reached your Workspace's user limit.
There can be only one Assignee on each Task.
Due date
You don't have to add a due date to your tasks, but it can certainly help to keep you organised and on track.
Tasks' due dates are easily seen at a glance from within your Task Dashboard, and, depending on your dashboard set-up for sorting tasks, you can clearly see tasks with imminent due dates at the top of your 'To do' task listing.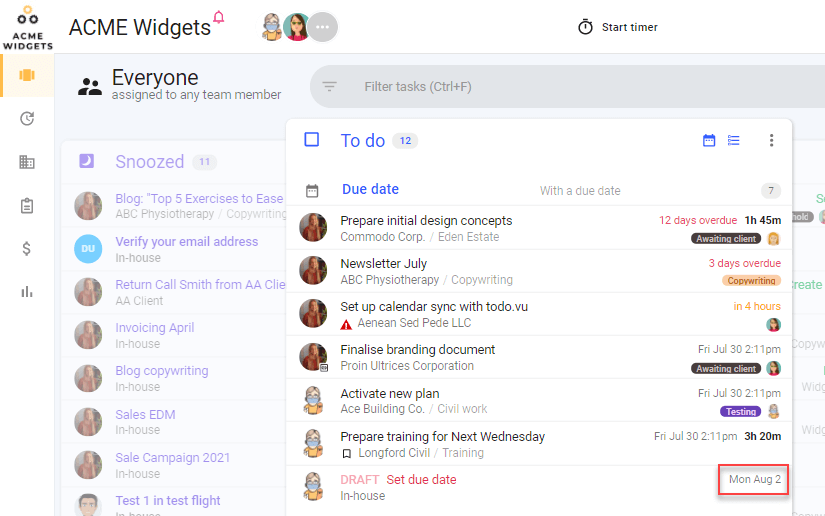 Here's how to add a due date to your new task.
Once your task is open, simply navigate to the right-hand side of your workspace and select 'Set due date' under 'Task is due'. Then, select the task's due date and time.
To remove a due date, simply hit the icon on the top-right hand side (the three dots underneath your notifications' icon) when in the due date editing sidebar, and select 'Remove due date'.
You can also add or change a task's due date from the Task Dashboard with todo.vu's Edit function. Simply select the task's avatar, and then choose 'Change due date' from the list of options that appear on the drop-down bar.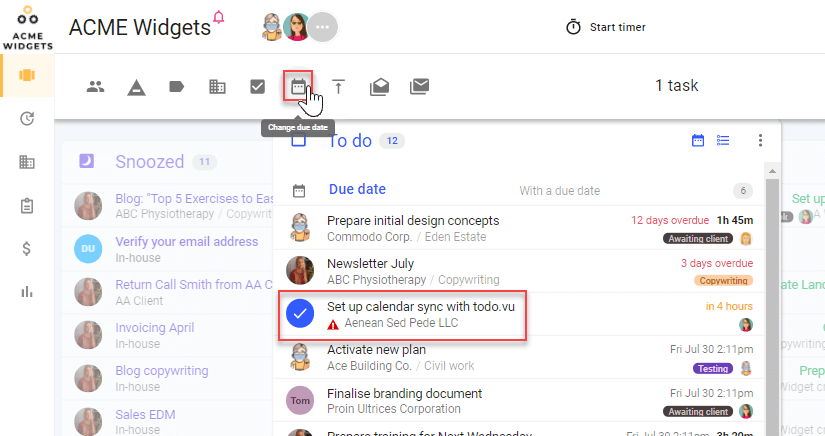 Private
When you search to add followers to your task by clicking 'Followers', as in the step above, you will notice that you also have the option to mark the task as private.
When a task is marked as private, only the creator, assignee and followers can see the task.
If there is just one sole user on a Private task (i.e., the creator and assignee are the same person), then this task will only show up in that person's 'Personal tasks'.
Labels
Adding Task labels can help you to better organise your tasks.
If you create the label "Copywriting", for example, when you click on the label "Copywriting", you will see all tasks that have that label.
To add a label, simply click on the label icon and search or add new labels from the drop-down list.
It is entirely up to you and your workflow as to the labels you choose to use.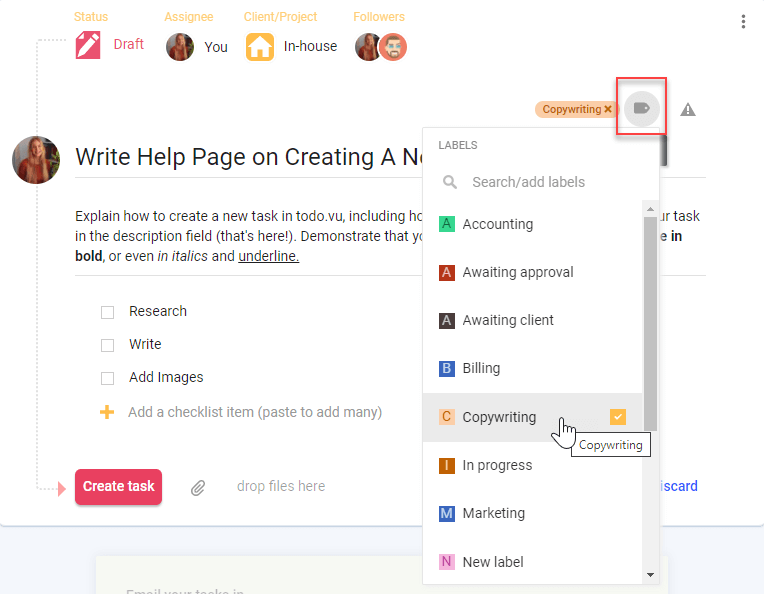 Important
You can flag top priority tasks as Important with one click.
When you mark tasks as Important, they can be grouped at the top of your 'Snoozed', 'To do', or 'Done' workflows, so long as you have enabled that option on your dashboard.
Important tasks will display a distinct tag on the task dashboard, no matter where they appear on the task list.
Create
Once you have followed each of the steps above, hit the Create button on your new task and it will be ready to be actioned.
You can find your new task on the Tasks Dashboard within the workflow state you added it to.
Tip!
Users can also create multiple Tasks quickly and easily with todo.vu's Project Templates.
You should know
Deleting tasks: You can delete a task from the 3-dot menu at the top right-hand side of the task. You can only delete tasks which have no time logged.
Copying tasks: You can copy a task from the 3-dot menu at the top right-hand side of the task.
Link to tasks from tasks: You can link to a task from a separate task within the description or comments section. Simply type in the task ID you wish to link to, prefixed with a #. For example, if you type '#85' this will create a hyperlink that will take you directly to task number 85. This might be helpful for connecting tasks to a centralized checklist!
todo.vu auto saves: Everything you type is saved in real time, so there should be almost no data loss if your connection is poor.
Clients/Projects/Labels can all be created 'on the fly': There is no need to have these already in the system. If you are creating a task and need to add a new Client, Project or Label that does not yet exist, you can just type it in and create it along with the task.
todo.vu auto populates: When you are viewing a task, you can create another task from that task's page with the button at the bottom right-hand corner of your screen.
When you do this, the new task will automatically acquire the same Assignee, Client and Project as the task that you were viewing. This is handy for adding multiple tasks.
Similarly, if you are viewing a Client in the Client's page and add a task, it will be linked to that client. And if you are viewing a filtered list and add a task, the system will do its best to match your filter settings for the task properties, thus it is fast to add multiple tasks in a row or to a project.