Repeating tasks in todo.vu
The right way to handle recurring work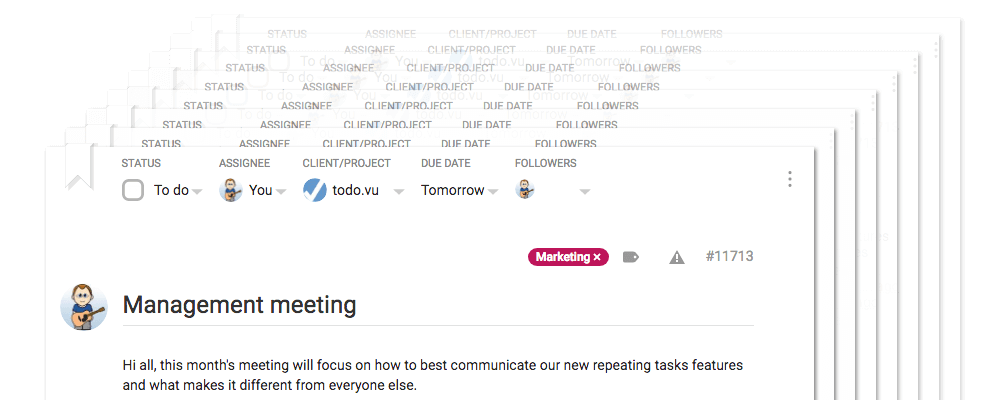 Repeating/recurring tasks are a complex thing. They are difficult to implement well and require significant consideration for all the possible variations. Tasks may repeat infinitely into the future – on a calendar that is OK but in a task listing, you would see hundreds of useless entries for future tasks.
There are many variations of sequences for how tasks may repeat. And you may need to adjust a sequence of tasks or change individual occurrences.
todo.vu has implemented repeating tasks like no other system. If your business relies on tasks that recur then you should check out what makes todo.vu different.
Case Study: Asana – how

not

to build recurring tasks
To best illustrate the mistakes other systems make, let's consider Asana – arguably one of the most used project management systems today.
Asana's implementation of repeating (recurring) tasks is typical of most other systems and it is fundamentally flawed. In Asana, you can only ever see the next occurrence of the task, and the task does not repeat until after it is completed.
This means that:
if you have a daily task and you don't complete Monday's task until Wednesday, then you will only see Tuesday's task on Wednesday and still nothing for Wednesday.
future occurrences of the task do not show up in your calendar.
there is no way to adjust one specific occurrence – for instance, if you have a monthly meeting that is typically the first Monday of the month, but one Monday happens to be a public holiday, then you would want to be able to shift that meeting to Tuesday in advance, but that is not possible.
There is no way to add custom content or attachments to future tasks.
Just see what Asana users are saying on their own site:
I choose a task to repeat daily, however, it doesn't show up daily! in fact, you have to complete a task for the next one to show. Why can't Asana have the same daily task just be listed on the calendar all at once? (instead of one day at a time, after the completion of today's task)
Supposedly once you click the task to be done, it will show up for tomorrow. Well, say I complete Monday's task on Wednesday. I still have to do Tuesday's task, but then nothing shows up on Tuesday or Wednesday, and the next task that shows up is Thursday.
Asana User
As others have said – the repeating tasks really need to show on the calendar. Some users may not even want to have emails come to them (I personally work completely in Asana and don't use email reminders). If the repeating tasks don't show up on the calendar I won't know about them. There is little point to having it repeating if it's not visible within Asana (neither on the task list or the calendar). Until this is fixed I will have to add each one individually.
Asana User
Have you guys seriously not updated a crucial/simple feature like recurring tasks showing in our calendars? What's the point of them recurring if they do not show on the calendar to remind they are due?
Asana User
Key features of repeating tasks in todo.vu
In todo.vu, repeating tasks are real tasks, they are editable and customisable and visible in calendars.
1. Each occurrence is a real task that can be viewed, edited and customised in advance.
2. Each future task occurrence shows up in your calendar and iCal sync feeds.
3. Future tasks are snoozed so they do not clutter your to do list, but will automatically "wake up" at a predetermined interval before the task is due.
4. Each task has independent workflow and will become 'to do' and 'due' independent of previous tasks.
5. You can make tasks recur on any number of days, any sequence of weekdays, weeks, months or years and also "Nth weekday of the month" sequences.
Most businesses have repeating tasks. Even if your primary client/project work does not repeat, you will surely have tax returns, license and insurance renewals, domain name renewals and other administrative tasks that regularly repeat.
Being able to capture and schedule these into your task management system without cluttering your inbox is vital for a smooth functioning office.
So when you are reviewing alternative systems – take a serious look at how they really work. Most implement a weak and almost useless version of recurring tasks in order to complete a checkbox on a functionality survey. But at todo.vu we have developed a genuine, robust and flexible solution to keep you and your business productive at all times.