Time tracking for creatives
Get started right away; no credit card required!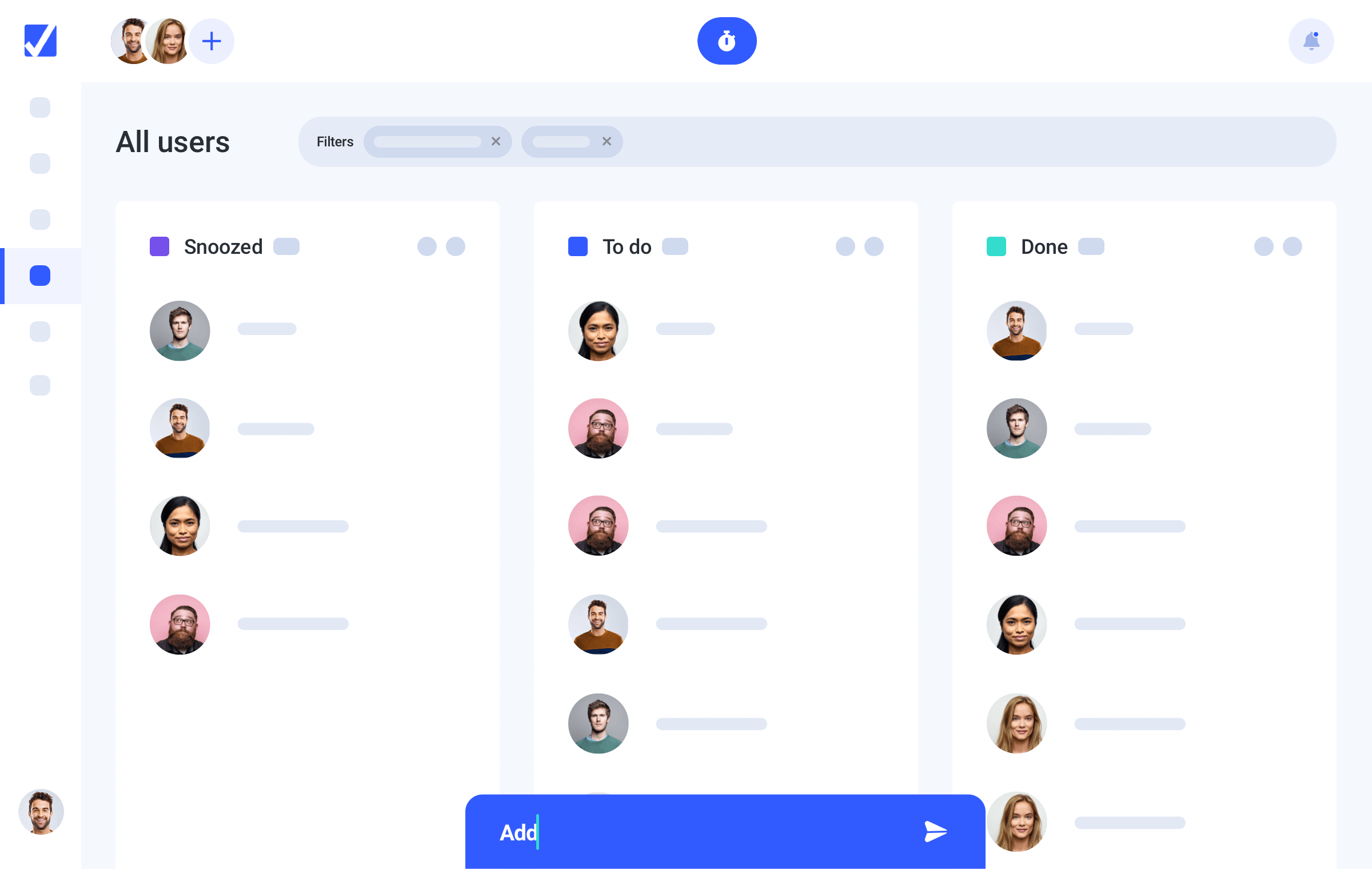 ​Finally, it's easy to charge for creative work
Whether you're a graphic designer, a copywriter, or a creative agency, todo.vu makes it easy to manage and charge for your work.
Integrating time tracking, task management and billing in a simple interface, todo.vu is made for dynamic workflows that involve many projects, many clients, and plenty of collaboration between colleagues, contractors and clients.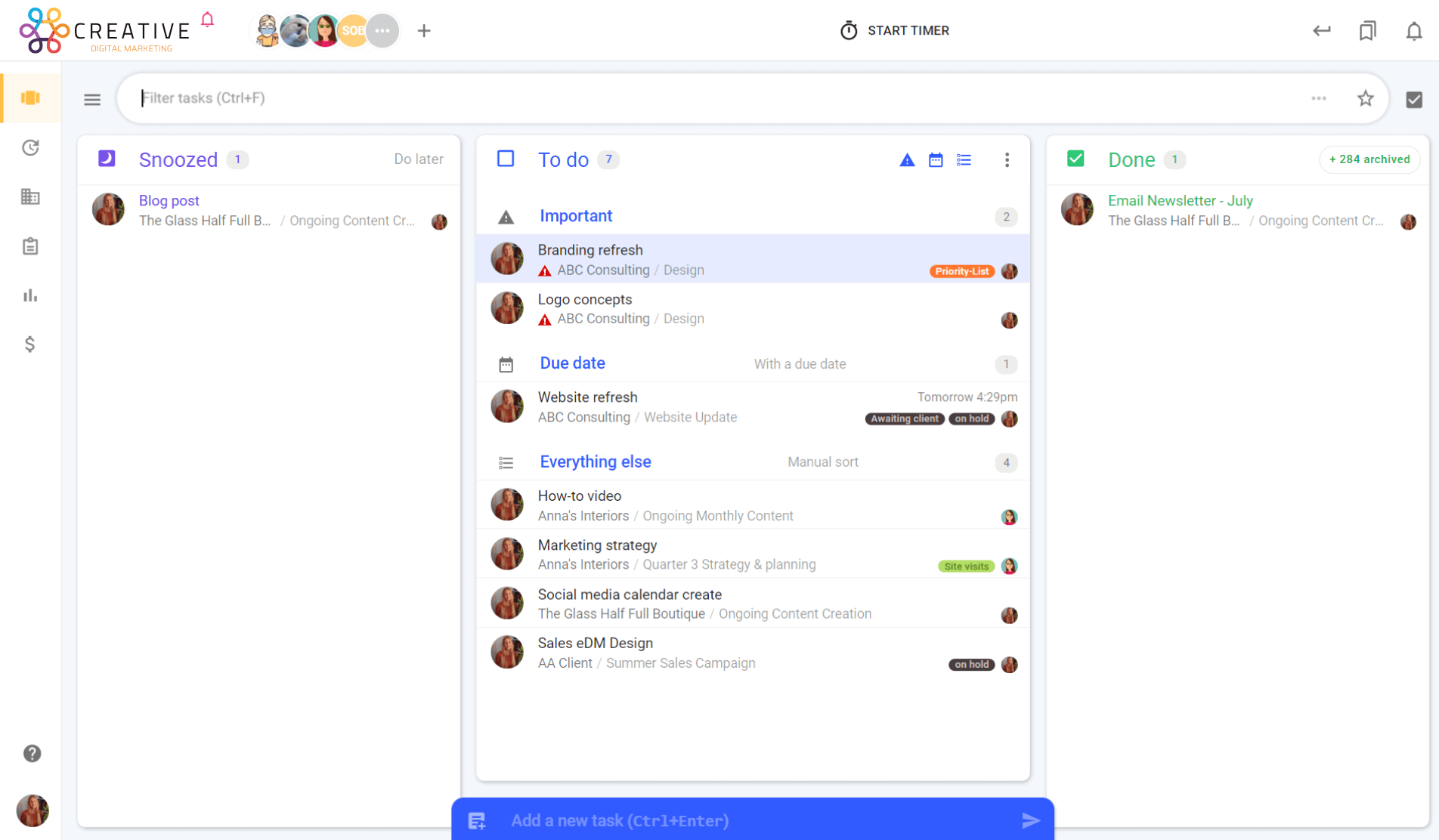 Track time with a single click
todo.vu can track every minute spent in your creative business–whether it's time spent on a client-related or in-house task.
A simple click is all it takes to start and stop the timer and record your hours.
Never miss a billable moment
todo.vu tracks your time at your chosen hourly rates. Your hours will always have a value unless they're marked as non-billable.
See everything
Time is tracked directly to tasks in todo.vu, which are linked to clients and projects. No time goes unaccounted for.
This means you enjoy valuable business insights on project and team progress, workflows, processes, habits, patterns and trends.
Charge your way
Prefer to charge a flat rate rather than an hourly rate for creative projects? No problem!
Use todo.vu to track your time and progress and identify patterns and trends in the way you work. That way, you'll know exactly what you need to charge to be profitable–there's no guesswork or estimating required.
Manage tasks, time & clients
todo.vu is task and project management, simple CRM, billing, and time tracking for creatives wrapped up in one tool that's simple to use.
Conveniently manage consulting and agency work in just one place.
Make invoicing easy
Time tracked in todo.vu is recorded at an hourly rate and, if desired, with detailed notes.
That means you can create clear, accurate bills in todo.vu in minutes that neatly detail what work was completed, to which task and project it belonged, and when and at what rate it was done.
.
Visualize your work
Every task can be managed in a visual, Kanban-style to-do list which easily maps your workflow and organizes your work for every client and project quickly and clearly.
Never miss a task or a deadline again, and keep your team on track and up to date with real-time commenting on tasks, convenient client access and automatic email-to-task features.
Get paid what you deserve
todo.vu will calculate time and cost totals for you, but you can choose what your clients see on their bill. If you want to show them the hours worked and not the hourly rate, you can.
todo.vu can be used standalone or with invoicing software; attach digitized bills to your invoices as a unique URL. Your clients are unlikely to dispute what you've charged them when they can clearly see the 'why' behind every minute.
Start tracking your time today ​
It's refreshingly simple.
First, set your hourly rates
Set different rates for team members and contractors
Assign tax rates for accurate billing totals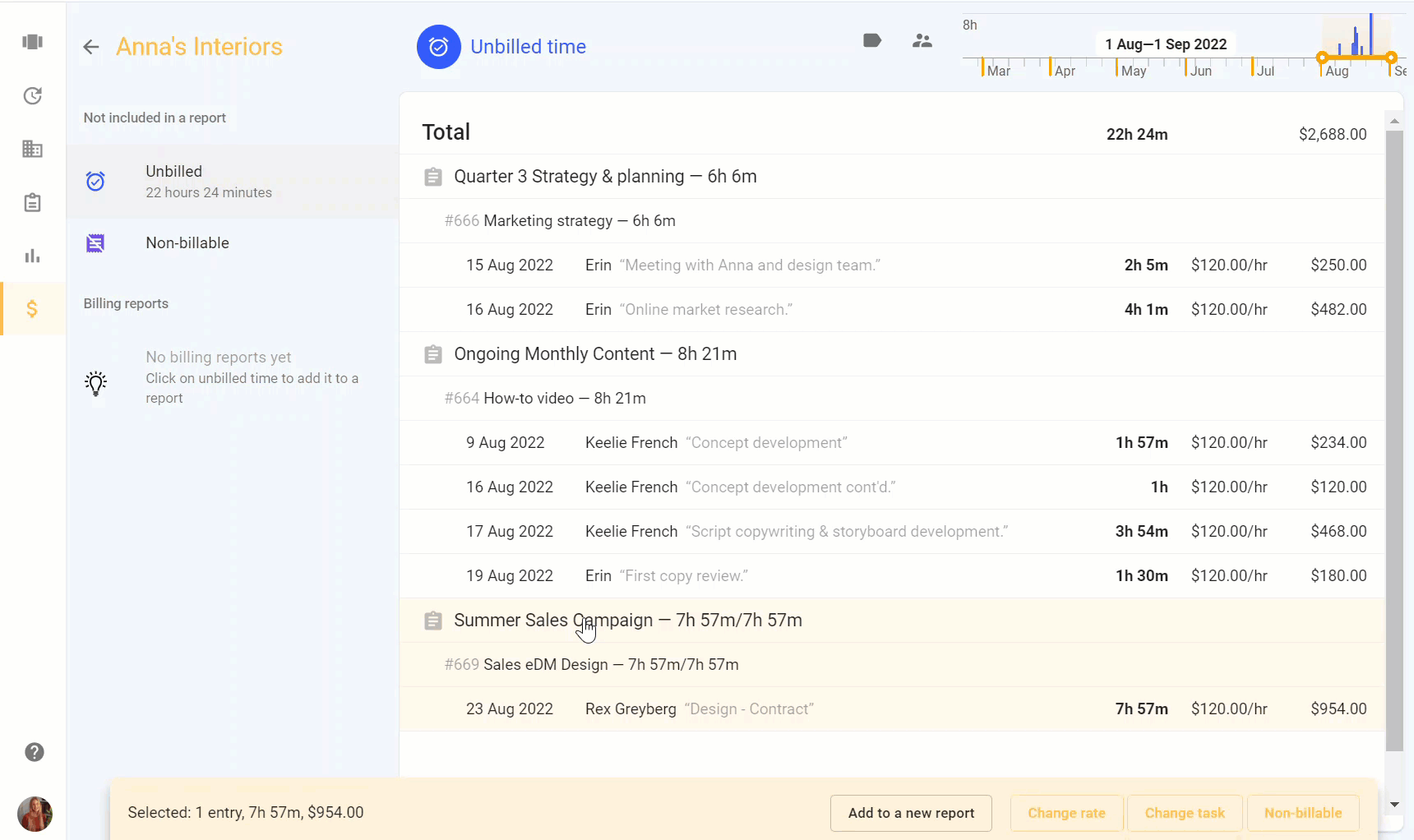 Then, create tasks
Enable clients to add tasks directly via email; emails are automatically converted to tasks and linked to your client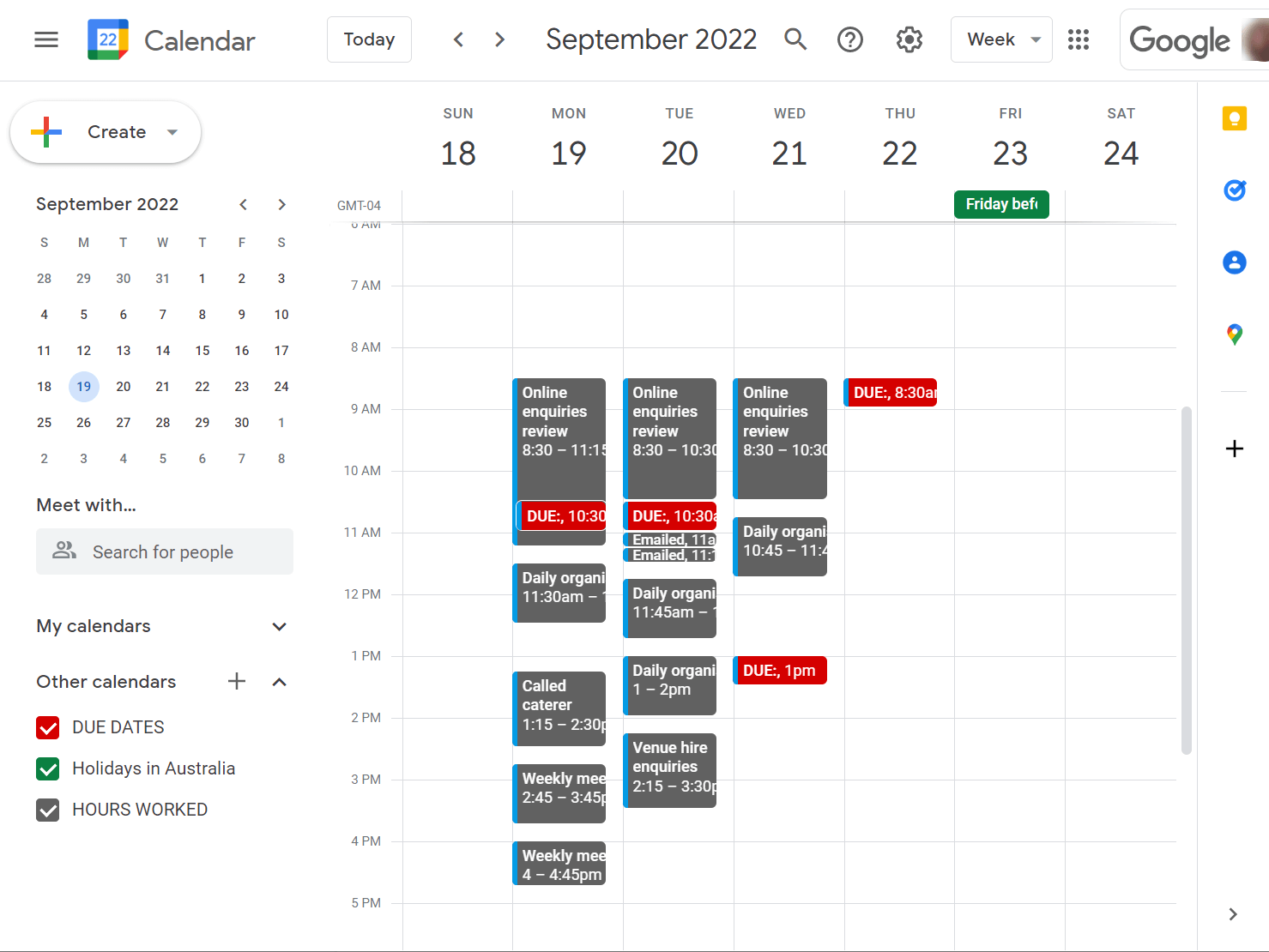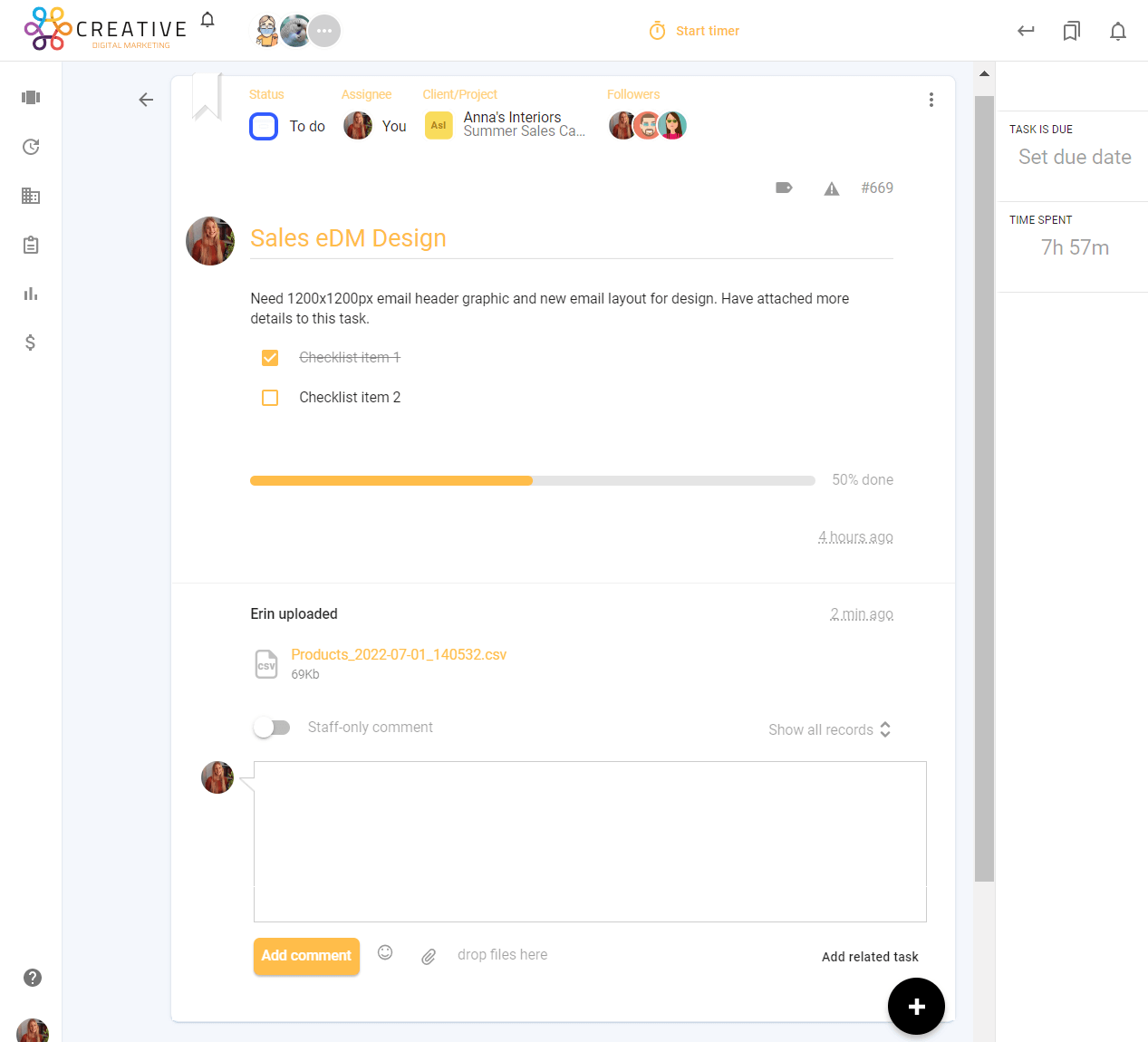 Connect todo.vu to Google Calendar or iCal
Collaborate on and keep track of your tasks with real-time commenting and push notification features
Now, track time to those tasks
Start the timer with a single click
Track time as it happens, or log time manually afterwards
Track and log time directly to specific tasks
See at a glance who is working on what in real time
Visualize project progress in real time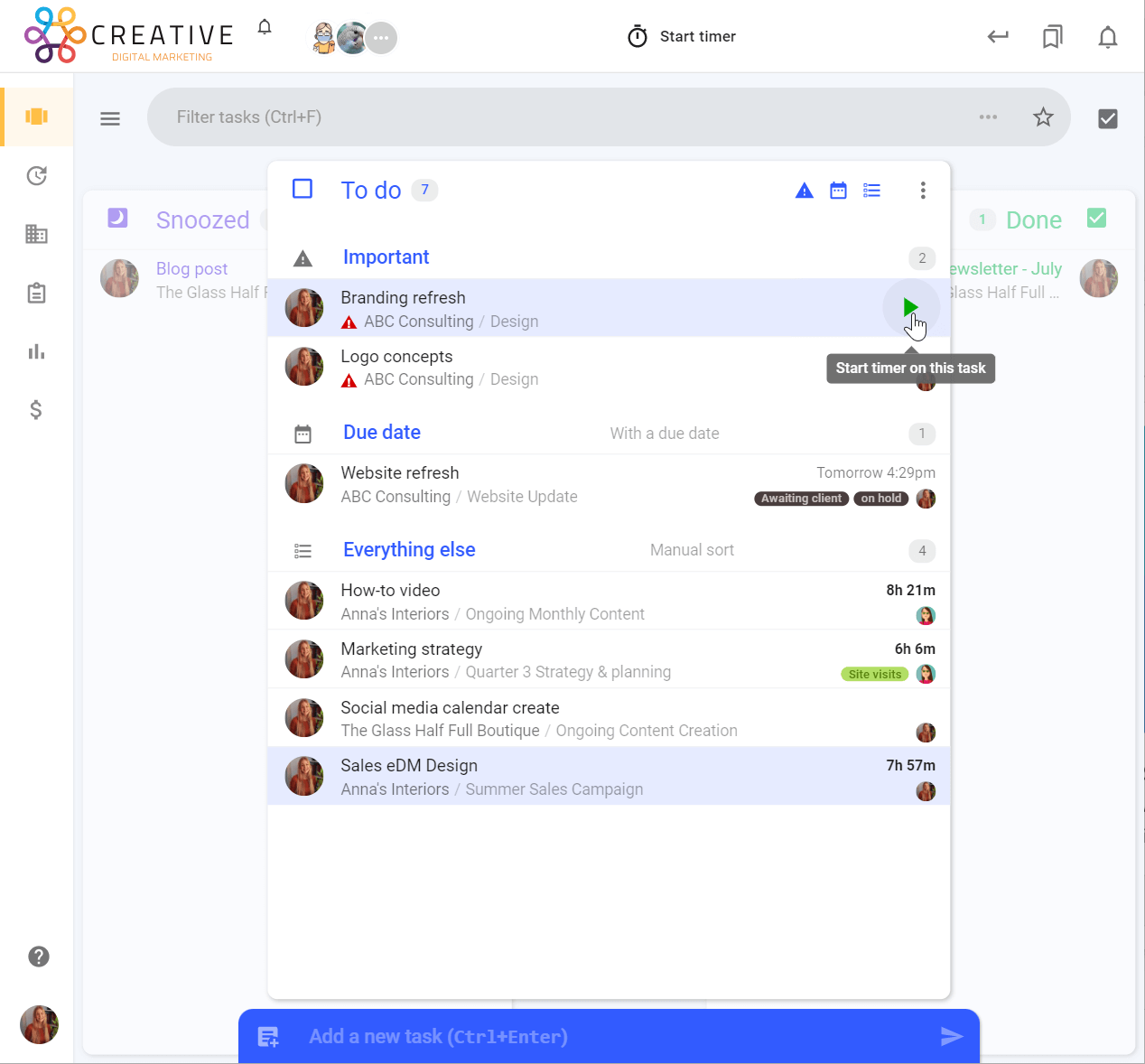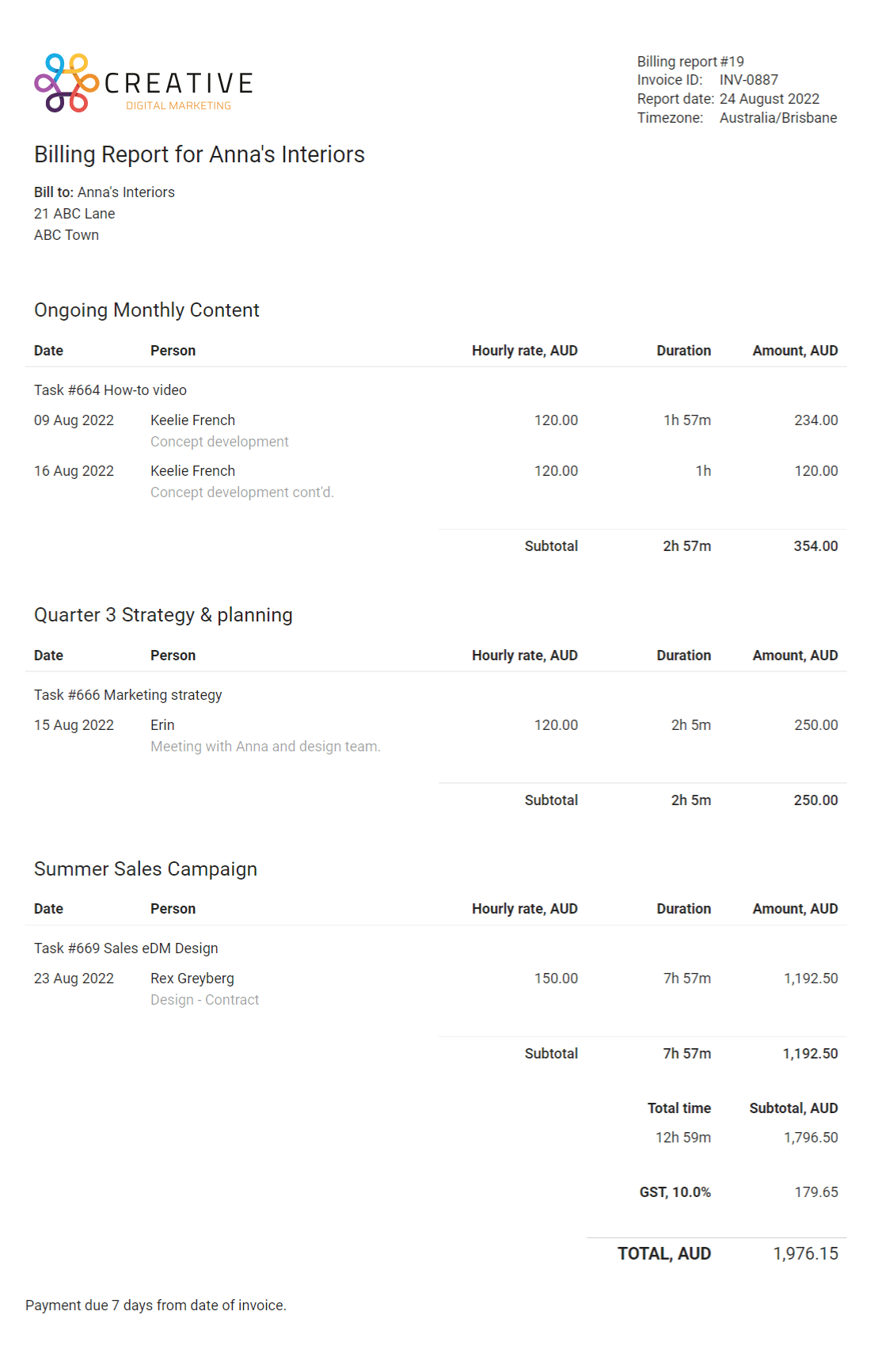 And easily bill for that time
Get accurate billing as todo.vu calculates time & cost totals to tasks, projects and clients based on your tracked time
Add your logo and branding to your billing report
Attach to your client invoices with a unique URL
Because I used so many different tools before I found todo.vu, I wasn't truly committed to any of them, and I'd often forget to log my billable hours. As soon as I started using todo.vu, I realised how much money I was losing because I was doing this!


Now, I can easily log all my billable hours and get paid accurately. I can also provide my clients with detailed reports that show exactly how long it took me to complete their tasks. I like how professional the billing reports look with my logo, which I easily attach to every invoice I send.
Start using todo.vu right away
TIME BILLING
Set billing rates on projects and staff. Select which time is billable, raise detailed invoice reports. Provide clients with detailed time reports.
TASKS
Track everything you or your team does – in-house tasks, personal tasks, and client project work all in one place.
EMAIL TASKS IN
Each workspace has it's own email address. You and your clients can email tasks directly into todo.vu. Attachments are included. Setup rules for assigning tasks from email.
REPEATING TASKS
Create real recurring tasks that sync with a calendar and can be individually updated, each with independent reminders. Read more about how we built the best repeating tasks system.
CALENDAR SYNC
Synchronise your task due dates with any iCal compatible calendar. Ideal for Google and Office365 Calendars.
ACCESS CONTROL
Clients can be invited to just see work associated with their business. Contract staff can be restricted to specific clients. Any tasks can be made private.
SOLO FREE
ideal for freelancers
Simple CRM

Task management

Time tracking

Reports & Billing

1Gb Storage

No credit card required

One staff user
BUSINESS TIME
tasks time and billing for teams
Simple CRM

Task management

Time tracking

Reports & Billing

2Gb Storage per user

Priority support

Capped at $99/month*
*Never pay more than the capped price, no matter how many users you add.
All workspaces start with a 14-day trial period with all features enabled and unlimited users.
During the trial, we reward you for exploring todo.vu by giving credit for performing various actions in your workspace. It's like an Easter egg hunt!
After the end of the trial, the credit you have earned will reduce the cost of your subscription. Or you can decide to use our Free Solo plan forever.