5 tips for easy time billing
3 minute read.
Here's how to use todo.vu's unique time billing features to capture more billable hours, invoice quickly and get paid accurately.
Because todo.vu is one of few tools that integrates time tracking and billing, you can track your billable (and non-billable) hours — and instantly calculate total bills — all in one place!
With detailed time billing reports available to you at any time, you can see at a glance where you're most profitable, and provide your clients with a clear breakdown of your billable time.
If you already use an invoicing system, that's great! todo.vu isn't meant to replace tools like Xero or QuickBooks, but to complement them, helping you to invoice accurately, quickly, and with transparency.
Here's how to make the most of todo.vu's time billing features.
Jump to:
1. Set custom billing rates
Do you charge different clients at different rates? Many of us do! That's why todo.vu offers a ton of flexibility when it comes to your own billing set-up.
In todo.vu, you can easily track and record your time at rates specific to staff, clients and projects. There's no need for multiple systems, spreadsheets or timesheets to calculate your total bill, because it has been tracked and recorded for you in todo.vu.
Here's how to set up billing rates for:
todo.vu Workspaces
Your todo.vu Workspace's billing rate is your default billing rate when you're tracking time.
To configure your Workspace's billing rate, click on your Workspace name in the upper-left corner, then "Time & billing settings". Or, once you are already logged in to todo.vu, navigate to this link here.
Then, simply scroll down to "Billing rate" to complete your set-up.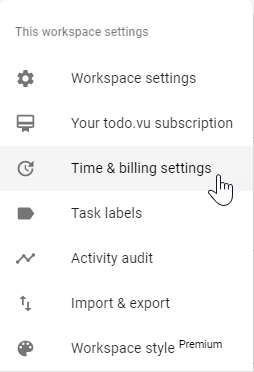 Team members
To set different charge-out rates for different staff, select "View all team members" by clicking on the ellipses (…) beside your team avatars at the top left of your workspace. Or, once you're already logged in, navigate to this link here.
Then, select a team member you wish to customise. In that team member's profile, select the menu in the top right-hand side and click, "Edit user details".
Here, you can change the team member's billing rate.
Clients
In todo.vu, the only change you can make to client billing is to the tax rate.
You can still bill clients at different rates, however, you'll have to set this up at a project level. (You can customise your charge-out rates on specific projects, you see. More on this below.)
Click on "Clients" in the left sidebar (or go to this link once logged in), select a client and select "Billing" to change the tax rate for that client.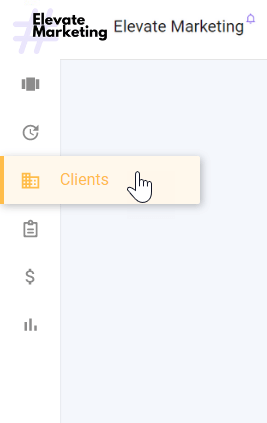 Projects & project users
To set a charge-out rate for a specific project, click on "Projects" in the left sidebar of your workspace (or go to this link once you've logged in), select a project and then "Billing rates".
Note the heirarchy of billing settings
Billing rate on Workspace: default across all projects, clients and team members.
Billing rate on each Team member (staff user): overrides Workspace settings.
Billing rate on Project: overrides Workspace and Team member (staff user) settings.
Billing rate on User on a Project: overrides everything.
For more information, see our Time and Billing Settings Support webpage.