todo.vu help
Help pages, tutorials and tips about how to get the most out of todo.vu.
Time and Billing Settings
If you are in the business of charging clients for time, you will know there is never one way to charge and almost every client and every one of your staff members will have different terms. todo.vu understands the complexities of consulting and has designed a multi tiered hierarchy of time and billing settings. We allow you to set default time and billing settings at various levels to meet the needs of your business.
This page will take you through the ways in which you can set default billing rates for the Workspace, Client Project, Project User and Team members. It is important to understand the various layers on which settings can be applied and which override which.
We will break it down into the following:
Workspace
Client
Project
Project User
Team member
Please note – These features are exclusive to our Business Time premium customers and only 'Admin' users can set and adjust billing rates.
Workspace Time and billing settings
Your workspace time and billing settings, once setup will be your default across all clients. To setup, click on the cog menu to access Workspace settings.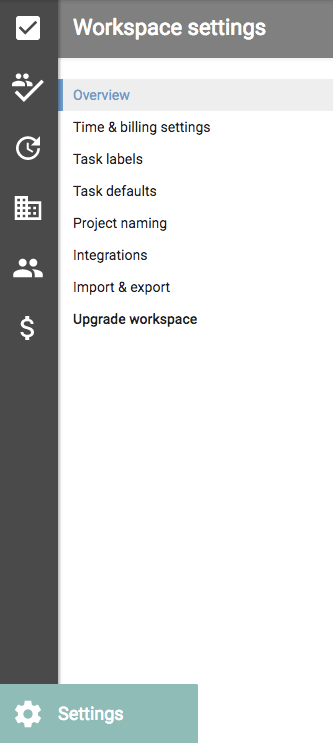 Once in the Settings main page, select 'Time and billing settings' to bring up options for configuring time tracking and billing settings.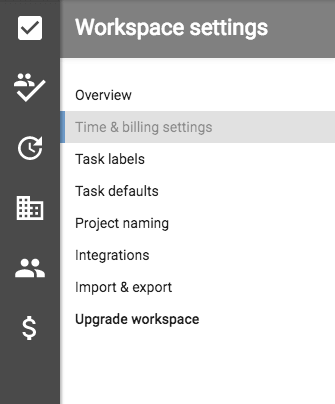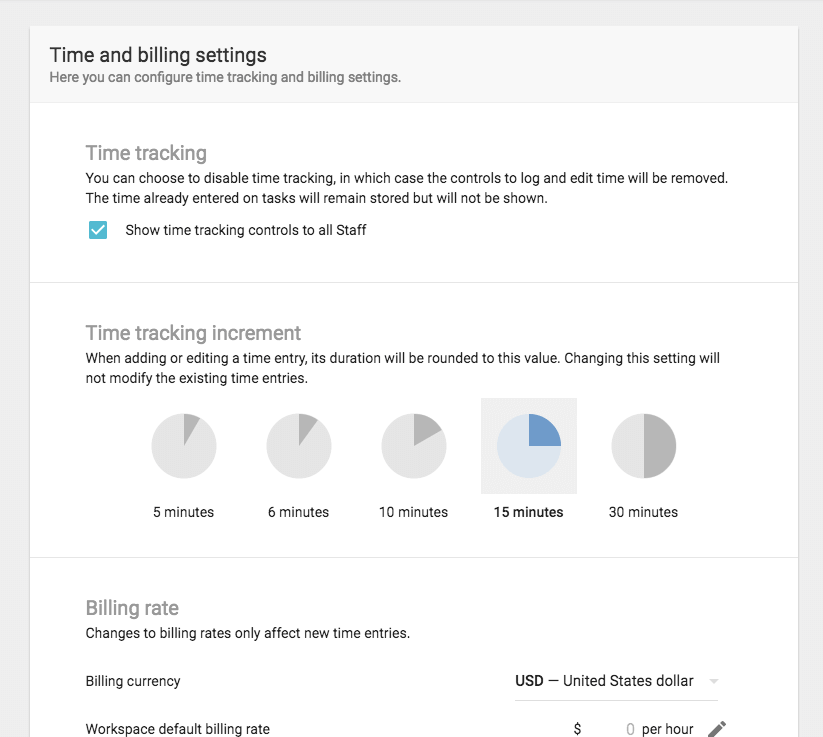 Time tracking
As explained in this section, the time tracking feature can be removed so that staff are no longer able to see it. The benefit of this option is to give you control over the features offered to staff. Not all staff will be required to log time so you may wish to disable this so not to confuse them.

Time tracking increment
Appreciating that every profession bills different time increments for their work, this feature is designed to give you the ability to set which is most applicable to you. You can set the increments in either 1minute, 5 minutes, 6 minutes, 10 minutes, 15 minutes or 30 minutes.

Billing rate
Here you can select the currency applicable to you and manually enter the billing rate you wish to set as a default for your Workspace.
Note – Only one currency can be selected per workspace.

Taxes
There are two sections in which you can input default tax rates for your workspace. If you were in Australia here is where you would input 10% tax for GST, for example.

Client Time and Billing settings
Of course, not every client or project will have the same rates. Hence todo.vu gives you the ability to specify rates for individual projects and adjust tax settings for clients.
You can find these settings by clicking on the client icon in the left sidebar, then selecting a client from the left-hand section, or the main view section.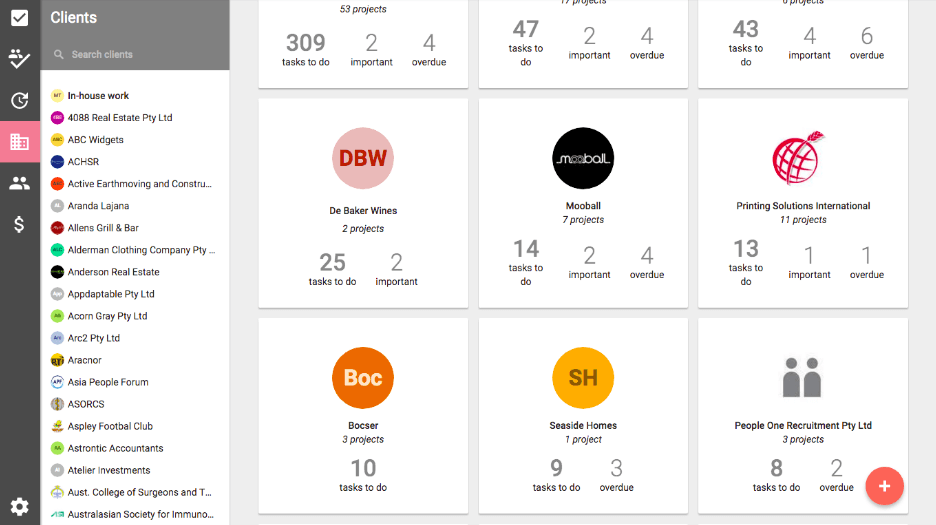 Client Billing settings
Once you have selected the client, scroll down to the bottom of their page to 'Billing settings'.
The only change you can make specific to the Client is whether you wish to apply tax or not. This can easily be switched on or off by clicking the blue switch.
Project Billing settings
In here you have the flexibility to set billing rates specific to the individual projects. Select a project and then scroll down to 'Billing rates'. You can then manually edit the rate.
Note – Changes to billing rates only affect new time entries.
Project User Billing settings
You will see a drop-down button under 'Project billing rate'. You can select this to view users that are connected to the Project.
To the right of the users, you can see that it is possible to manually edit their billing rates.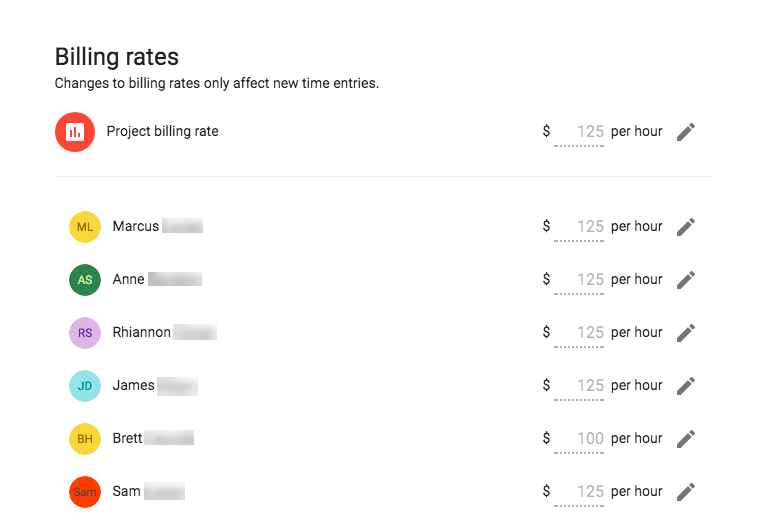 Team member Billing settings
Another option is to set default rates for each of your team members. You can access this by clicking on the Team icon in the left sidebar, which will bring you to the main Team page.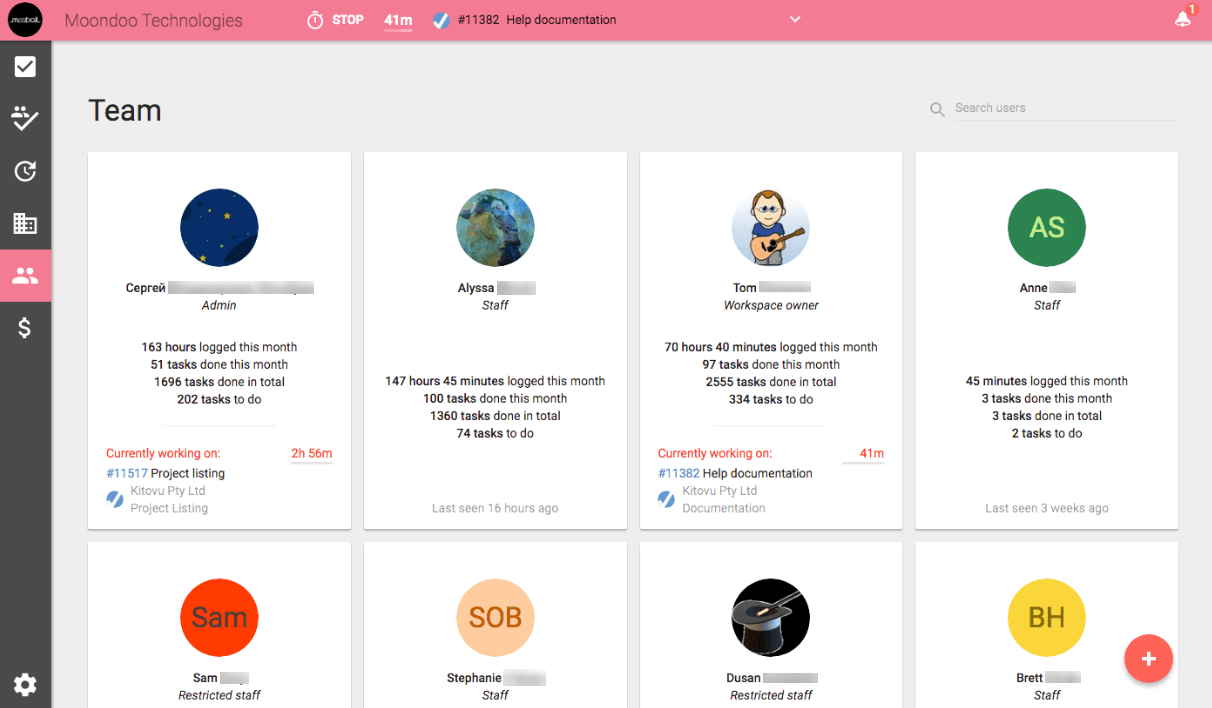 Select the team member you wish to set a billing rate for. Scroll down to 'Billing rate' and you can manually change the default rate for that staff member.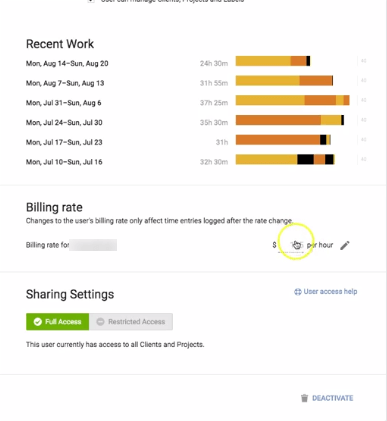 Hierarchy of settings
Now you have a hierarchy of billing rates that looks like this:
Billing rate on Workspace
Billing rate on each Team member – overrides Workspace settings
Billing rate on Project – overrides Workspace and Team member settings
Billing rate on User on a Project – overrides everything