todo.vu help
Help pages, tutorials and tips about how to get the most out of todo.vu.
Workspaces
todo.vu is built around a network of Workspaces and Users. The Workspace is your companies todo.vu system. When you log in, you are logging into your Workspace. All Clients, Projects and Tasks live in your Workspace.
General rules of the Workspace:
Each workspace contains a set of clients, projects and tasks.
Each workspace can be accessed by one or more users.
Each workspace has one "Owner". This is typically the user who created it.
Only the Owner of a workspace can delete it.
Workspace plans
The todo.vu Workspace can be used by Families, Freelancers, Solopreneurs, SMEs or Enterprise businesses to better manage their tasks. With such a diverse range of customers, todo.vu has a range of plans to suit all needs. A workspace can be on one of three Plans:
Solo – Perfect for freelancers or solopreneurs who use the platform to manage their own time and do not require other Users to have access. The Solo plan still allows you invite Client contacts to your Workspace which means they can create tasks for you from within the Workspace.
Team Premium – For collaborative teams, the Team Premium plan allows you to delegate tasks to your staff; Allocate staff to specific clients; 2GB file storage per user; and priority support.
Business Time – Business Time is the creme de la creme todo.vu plan. Including Time reporting and billing; All Team Premium features; Set billing rates for staff; and Invoicing for time.
Note – All plans include Tasks, Clients, Projects and the time logging feature. Visit our Pricing page for more information.
How many Workspaces do you need?
Typically, you would create a Workspace for each "Business" that you operate, there is generally no need to have more than one workspace per business; unless your operation has relatively distinct separate departments and teams.
You can control the levels of task and client access for each user within the workspace so no need to create separate workspaces to try to control access.
We use the term "Business" loosely. Many Users will have one Workspace for their Family and one for work.
Note – You can easily switch between workspaces. See Accessing multiple Workspaces in the Managing Users how-to page for instructions on how to do this.
Users and Workspaces
A User may have access to one or more workspaces. If you have access to no workspaces then you will be prompted to create one when you next log in. This could happen if the Admin from a workspace revokes your access or deletes that workspace.
A User may have different roles within a workspace such as Owner, Admin, Staff, or Contact. See Managing Users for more information on Users and Roles.
Setting a default Workspace
Users can choose their default workspace. This will be the one you are automatically taken to when you log in.
To set the default Workspace, you simply click on your name in the top right-hand corner and select Workspaces from the drop-down. Once in the page, it will bring up the Workspaces you are connected to and you simply click Default workspace for the Workspace you wish to have as your default.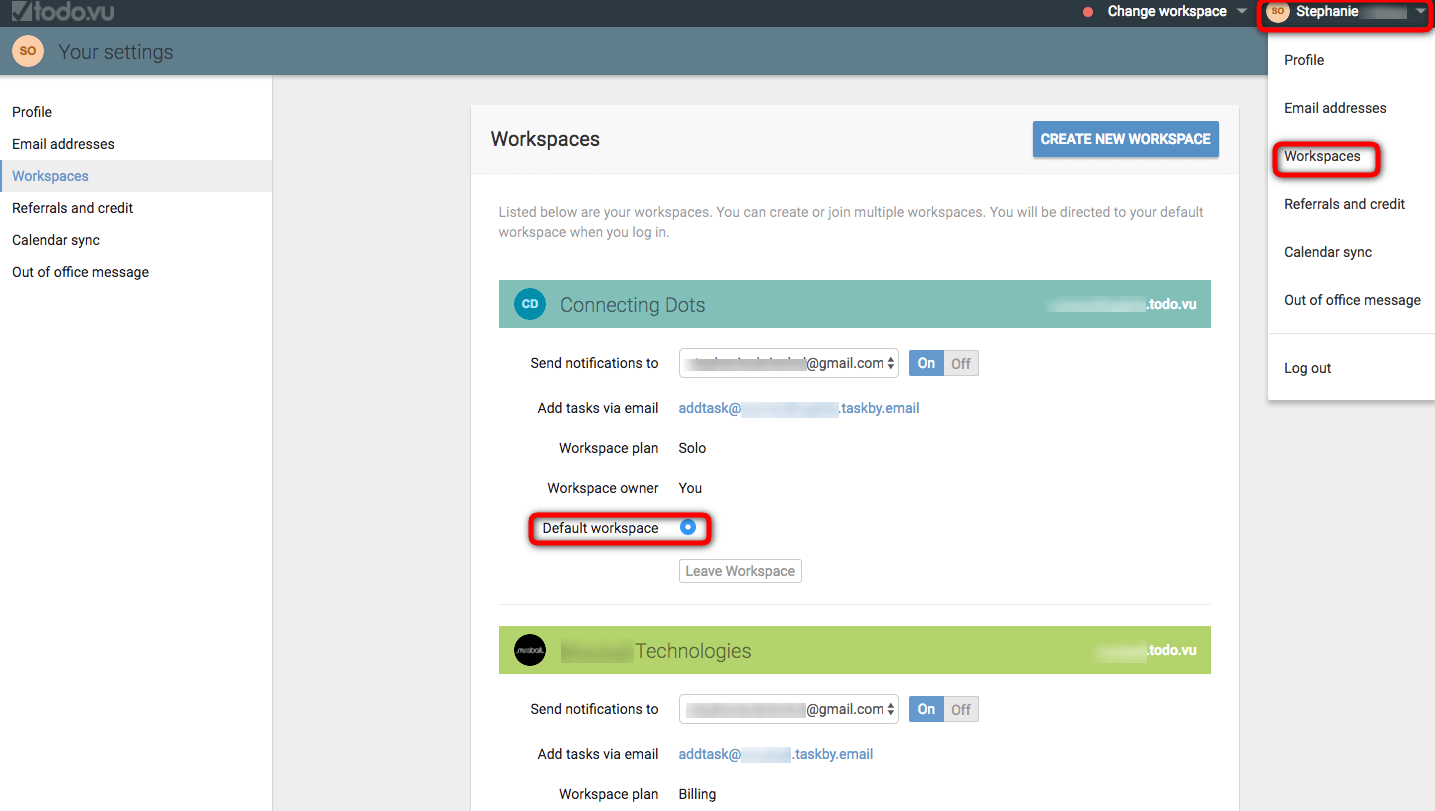 Setting notification email address
Users can set different notification email addresses for each of your workspaces. This allows you to clearly separate your work.
This can be done from the same page as we set our default Workspace. Under 'Send notifications to' you can add the email address you prefer to receive notifications to.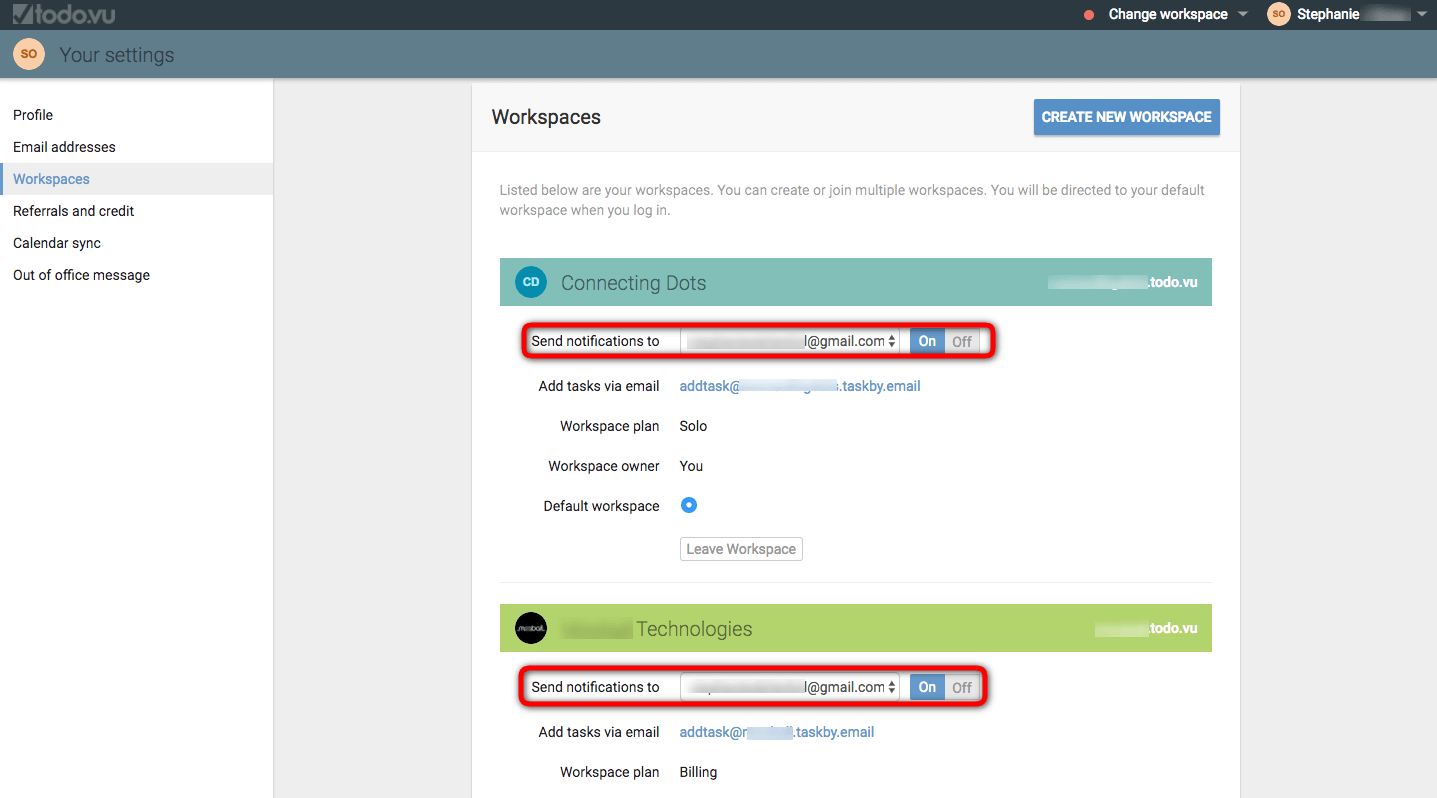 Personalising your Workspace
We appreciate that each business has its own style. With this in mind, we allow Owners to personalise their Workspace with its own personalised name and logo. 
This can be done through the Settings cog. See Workspace settings for more information.
If you would like to change the URL of your workspace then you will need to contact support. Let us know your current URL and desired URL and we can arrange for the changeover.
Adding tasks to your Workspace via email
While in the Workspace page, you will see a special email address like this addtask@yourworkspacename.taskby.email. This email address is designed to allow you to email tasks to your Workspace. Simply email the details of the task to this address.