todo.vu help
Help pages, tutorials and tips about how to get the most out of todo.vu.
Finding tasks
Finding tasks in todo.vu is relatively simple. But once that list starts to grow, you will find it mighty handy to learn how you can filter these tasks. This will make it much easier to get a clear view of what you have on or what your team is up to. It also helps you to find old tasks or any that may have gotten too deep down into your list to find just with a quick glance.
Your tasks & All tasks
The left 'side bar' provides two sections for finding tasks – Your tasks & All tasks. Both of these sections work as a faceted filter search system.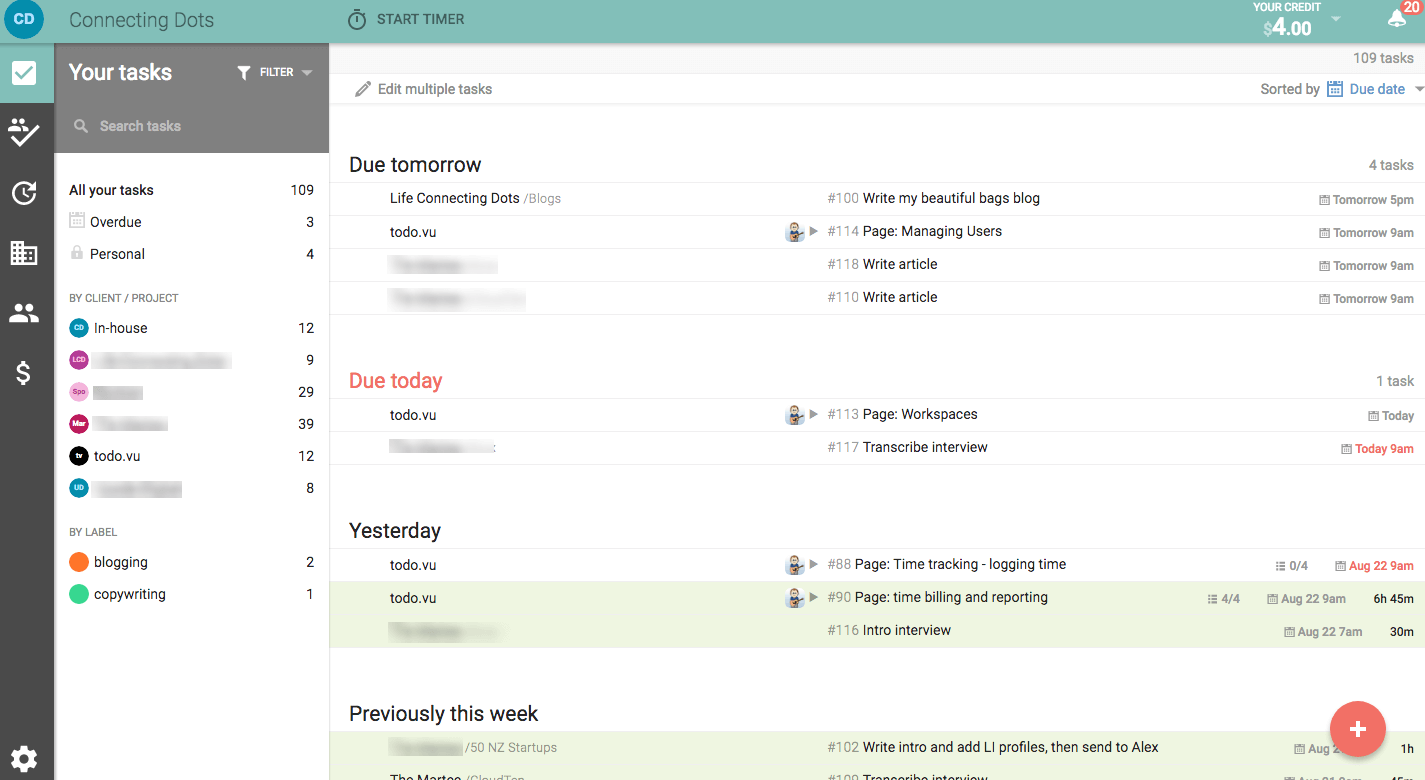 Note – If you are a single user on the workspace these two pages would be identical. Because of this we disable All tasks on a single user workspace.
Let's explore this column from top to bottom.
Note – By default, you see all tasks of all states in this column.
Workflow state
You will see the word "filter" with a drop-down option to the right of Your Tasks or All Tasks (depending which page you are in). Here you can filter your tasks by workflow (To do, Done, Snoozed, Archived) simply by clicking whichever state you wish to find.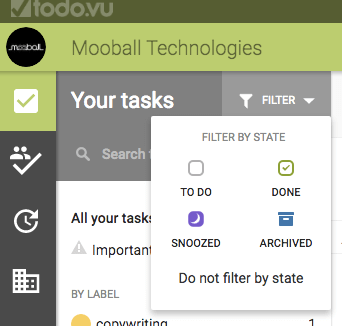 Note: The workflow state filter is persistent, once you choose it, it remains fixed until you change again. This means the workflow filter will apply for any further searches below.
E.g. If you select 'To do' in the workflow state, all further searches will only bring up those To do (not Done, Snoozed or Archived)
Search tasks
As the name suggests, here you can enter a key word to find a task. This feature can find and match words from the Client name, Project name, task Title, task Description and task Comments.
Tip – If you type a number into the search, and if that number matches an existing task ID, then you will be taken directly to that task.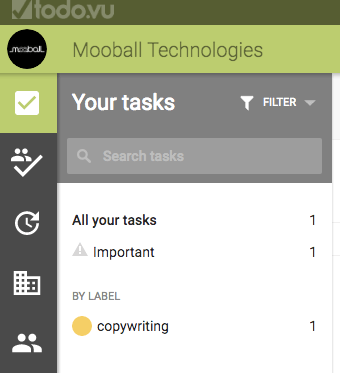 As we work our way down, you will see a few specialised filters at the top – these filters will be relevant to actions you took when creating the task:
Overdue – any that have not been completed by the due date you specified when creating the task.
Important – these are the tasks that you will have taged/marked as important when you created the task.
Personal – personal tasks are those that are private, which only you can see.
Bookmarked – those which you bookmarked when creating the task.
Drafts – tasks that you began to create but did not complete for whatever reason.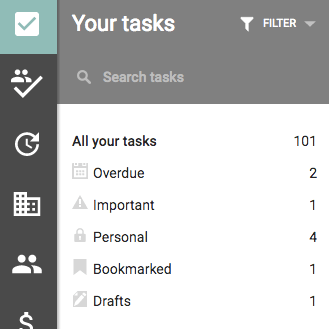 By Client / Project
Selecting a client in this list will then open up a list of the projects for this client, which apply to your search. Clicking on a specific project further narrows the search.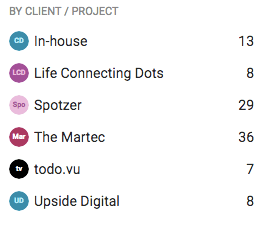 By Label
The names of the Labels will be unique to you and your business. You can select a label to narrow down the search specific to tasks within that label.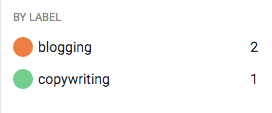 Be aware:
Filters will not be displayed if there are no matching tasks. For example, if you have no overdue tasks then you simply don't see the filter.
Similarly, the client filter only shows clients for which you have matching tasks. If you are looking for 'To do' tasks then you will only see clients that have tasks to do. Thus, you could have hundreds of clients in the system but you may only see a dozen that you are working on.
Specific to All tasks
From the All tasks page you can also filter by Assignee. Note that staff who have left your workspace still remain visible here if they have matching tasks.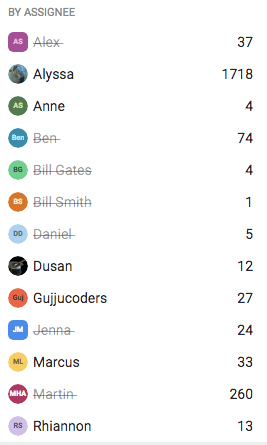 Sorted by
Once you have found your list of tasks, you can then choose how they are sorted. This feature can be found at the top right, where the tasks are listed. Here you can sort by:
Last activity
Due date
Date created
Client
Label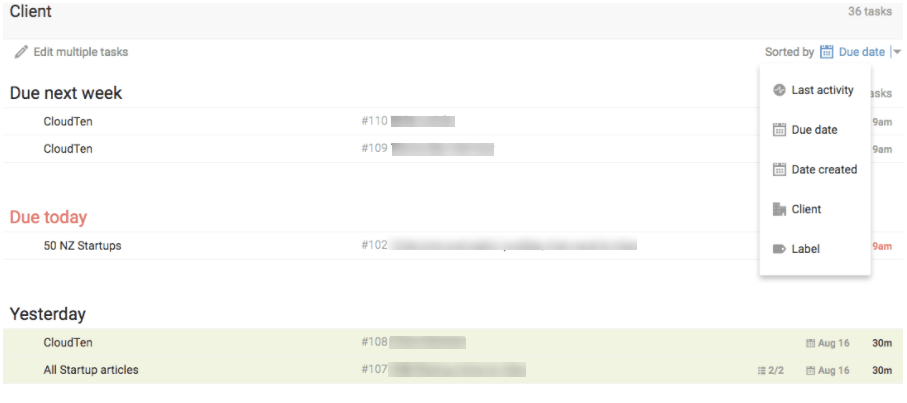 Note – The sort setting is also persistent across all searches. It will remain unless changed.
todo.vu bonus tip
If you set your "All tasks" workflow filter to "all states" and the sort to "Last activity" then the result list acts like a timeline of activity within your entire workspace. This is very handy for an admin overview of what is happening across your business.