todo.vu help
Help pages, tutorials and tips about how to get the most out of todo.vu.
Workflow states are filters or categories which can be applied to better organise, manage and quickly view relevant tasks in your workspace. The workflow states are designed to be simple. It is fixed across the entire workspace. This makes it easy for staff and clients to learn, comprehend and utilise, without too much difficulty or time lost learning the system.
There are 4 workflow states for all tasks:
To do
Done
Snoozed
Archived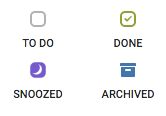 To do
When the creator creates a new task and assigns it to the assignee – the task is automatically assigned to the 'To do' state.

Done
Once the assignee has completed the task, they mark the task 'Done'. This will move the task into the Done state in their workspace.
This action invokes a notification back to the creator to tell them the task has been done.

Note – If you have tasks that you assigned to others and are marked Done, then you will see a green bar above the task listing with a note saying "tasks you assigned are now done". This will include links to 'review' or 'Archive all'

Archive
Once the creator has checked the work and is satisfied it is completed, they can mark Archive. This allows to you sort tasks more easily. You do not have to see tasks that no longer require the attention of the creator or the assignee.

Note – If the creator is not satisfied with the task, they can make it "To do" again and add a note with further instruction.
Snoozed
Snoozed is a special state for the purpose of capturing tasks that perhaps do not require immediate attention. This could be where you store tasks or projects for slow days or making lists of projects to look at once high priority tasks are complete. The benefit of the Snoozed option is that these tasks don't clutter your 'To do' list but can be stored for future work.
When you select Snoozed you will be given two options:
Until someday – This will leave the task in your Snoozed section until you choose to revisit it.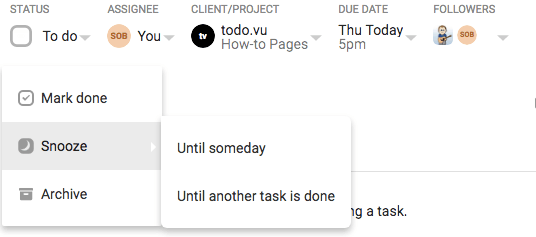 Until another task is done – This will lead you to select which task you would like Done before you are reminded of your Snoozed task.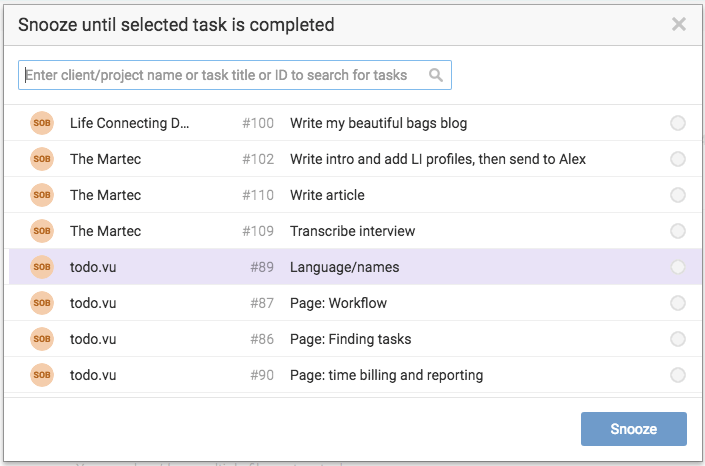 todo.vu bonus tip
If you want to track more specific workflow states then labels can be employed. See Finding Tasks for more information on searching By Label.
A software company may have labels such as "in testing", "deployed". Consultants may have "awaiting client response". Then the filtering system can be used to find these tasks.