Our beta release of time tracking on tasks has been a great success.  But of course, tracking time is only half the story. For those who want to take this one step further and bill for their time, we have now released a range of new features that make todo.vu one of the most comprehensive productivity suites on the market today.
"For most users, simply finding 10 minutes of lost billable time each month will cover the cost of todo.vu!"
Set a default hourly billing rate for all clients.
Set hourly billing rates for projects and staff.
Mark time as billable/non-billable.
Prepare "Invoice Reports" based on client/project, time range.
Track which hours have been billed so you can never double charge.
View billing reports for staff and projects.
View billed/unbilled hours for projects and clients.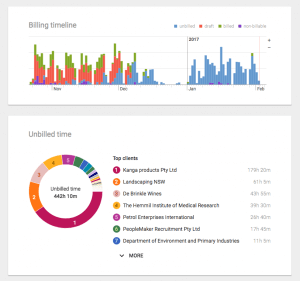 With this release todo.vu becomes a fully featured task-time-billing system and moves us into a new league. You can now stop using your third party time tracking system (or spreadsheets, really?) and manage everything in one place.
To keep things simple, and make it possibly for anybody to try these features out, we have released the code to all plans. However, on the Free Solo and Team Premium plans, reporting is limited to 7 days of data. This will give you a chance to try all the features out fully and decide if it works for you or not.
Our Business Time plan provides full billing features and will be charged at an introductory special pricing of $9/staff/month.