This month we are releasing an update to our billing reports.
Billing reports are a central part of todo.vu and something we aim to do better than most. There is nothing more important than getting paid for your work and your ability to present your fees clearly and succinctly to your clients is a vital part of that.
It has always been our intention that the billing reports are used to complement your invoicing/accounting system. These reports are designed to be linked from your invoice to provide your client with a more comprehensive view of the fees. They also provide a vital link between the billable hour and the original task request. This detail adds credibility to your charges, thus reducing the possibility of disputes and improving cash flow.
If a client is faced with an arbitrary fee with very little explanation of how you arrived at it, then they are far more likely to question it or just get annoyed and not engage you again. However, if you can clearly articulate your efforts and even show a link between the fees and the client's own task requests, then they are far more likely to understand and accept your fees. They will also appreciate your integrity and transparency.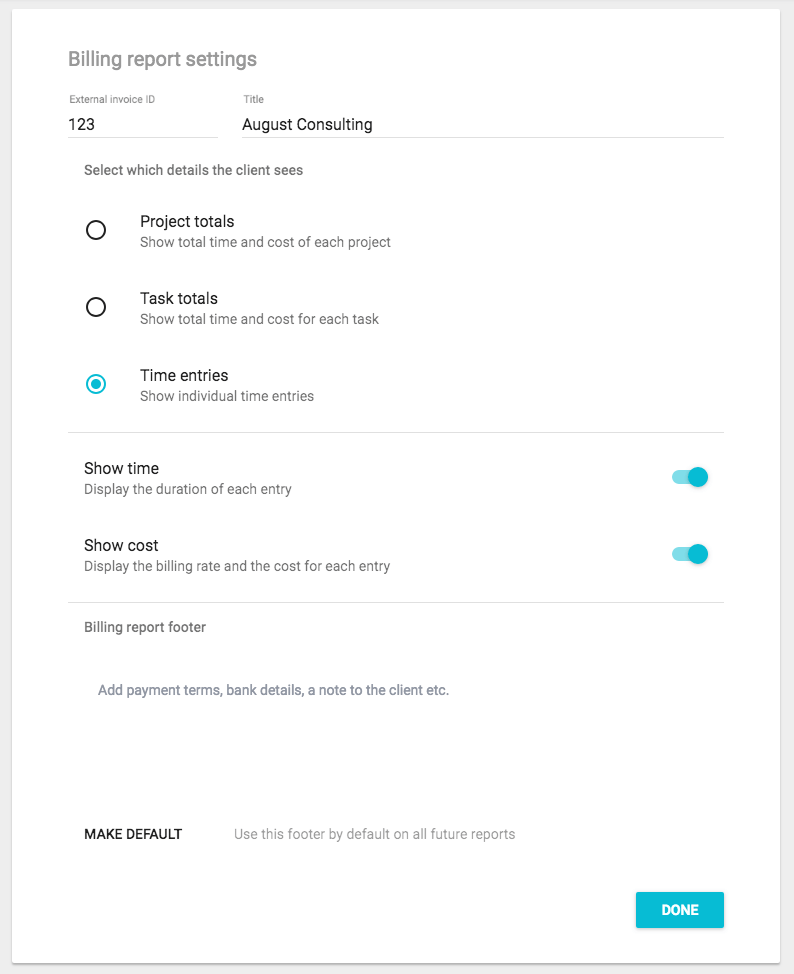 In addition to the existing options to vary the amount of detail included in the report (Project totals only; Task totals, or detailed time entries). We have added several new options.
Show time – now you can decide if you want to display the task duration or not. Sometimes you just want to bill a fee without revealing how much time was spent. This option allows you to decide if you display the duration column or not.
Show cost – this one may seem a little odd but we have had requests from some users who want to produce a report that shows the times spent on tasks but not the final billable cost. This option allows you to choose if the cost column is displayed or not.
Report Footer – we have added the option to embed your own custom footer into the reports. This footer can take some minimal formatting such as Bold, Italics, Underline, Lists and Hyperlinks. This is a great way to add payment terms or other disclaimers to your reports. You can also save your footer to be reused on future reports.
There are now many different ways to present your billing reports.