Small business compliance software
Get started right away; no credit card required!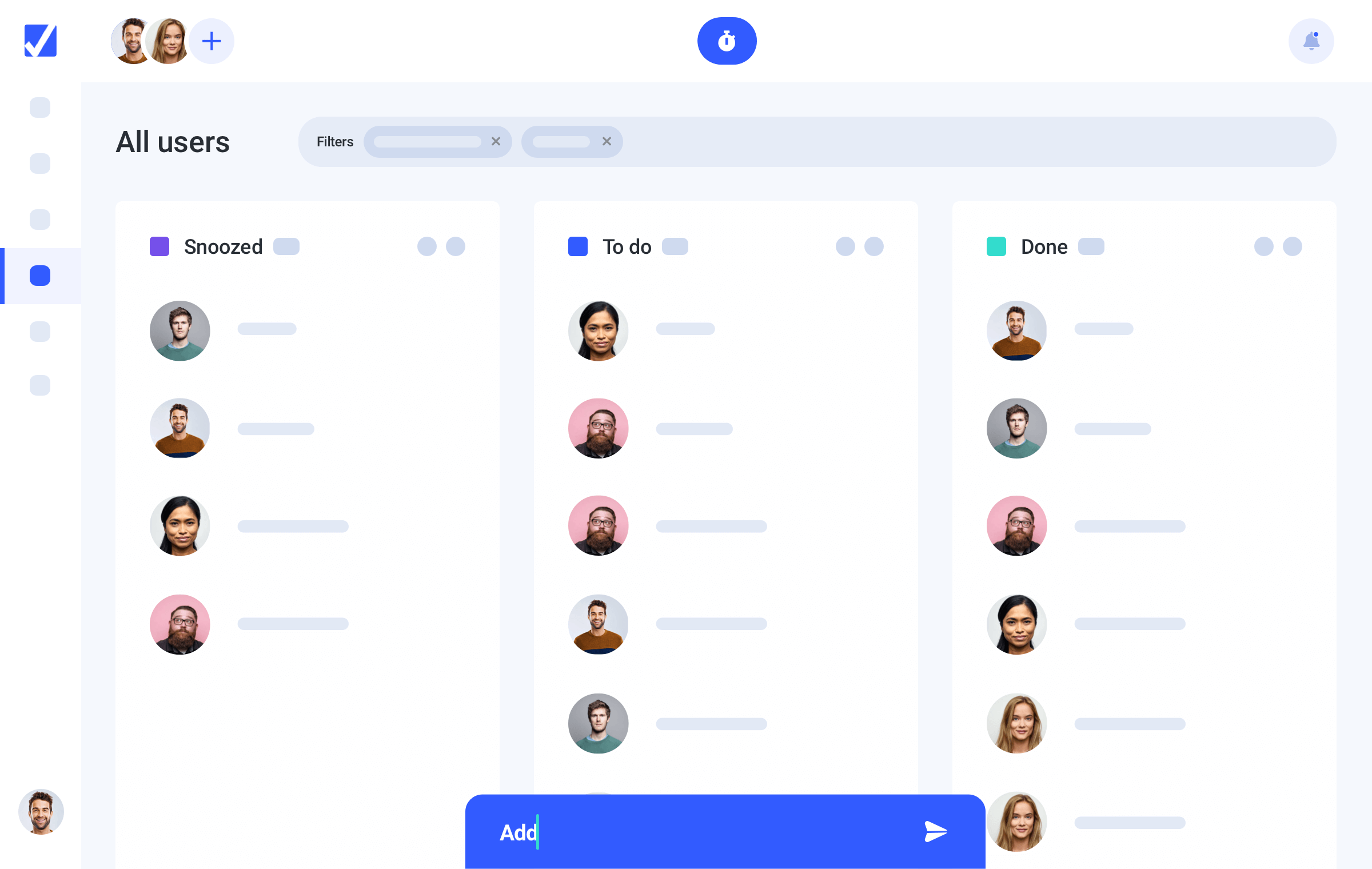 Business compliance & management made easy
For many small businesses, getting certified to international standards is complicated. Without a real need (or budget!) for complex, regulatory compliance software, many businesses resort to spreadsheets and calendars to manage the many tasks and people involved.
But this can get messy – fast – and end up wasting time and resources.
That's why todo.vu provides a simple compliance management solution to help smaller teams manage, track, record and collaborate on compliance activities and requirements.
What's more – todo.vu's functionalities aren't limited to compliance tasks, giving you the freedom and flexibility of a system that can help you in more ways than one.
With todo.vu, small businesses can automate work instructions and record keeping for auditing purposes, as well as manage, track, bill for and collaborate on everyday tasks and projects for clients.
This simple integration is designed to save small businesses time and money on keeping both functional and compliant.
Track progress & activity export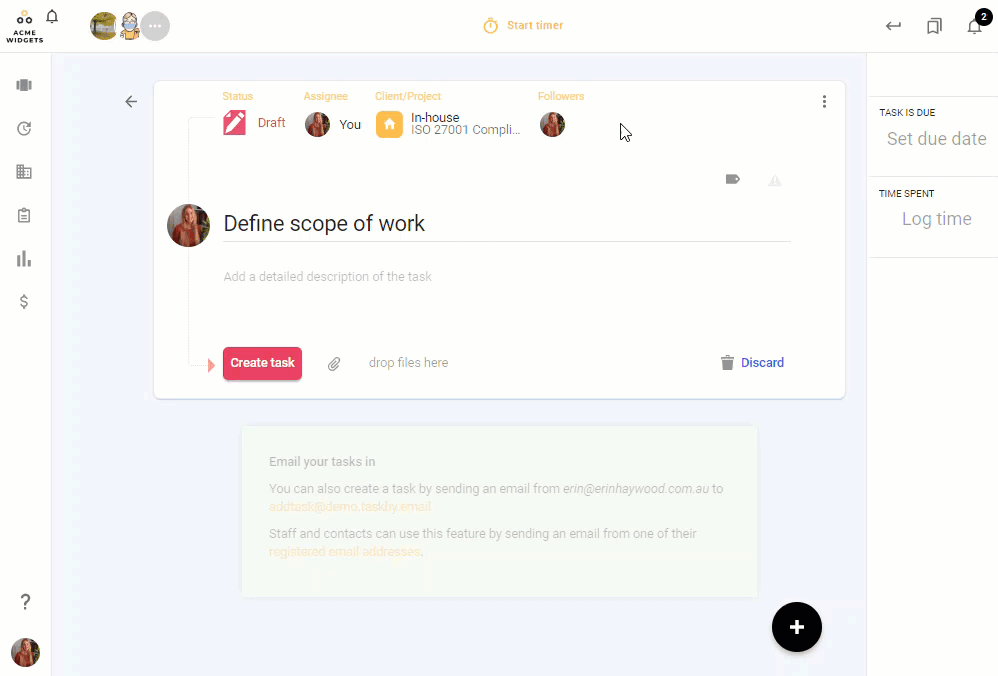 Create and categorize unlimited tasks according to custom requirements and attributes. Assign team members; add followers, due dates, checklists, links and rich text; and upload files and documentation to tasks.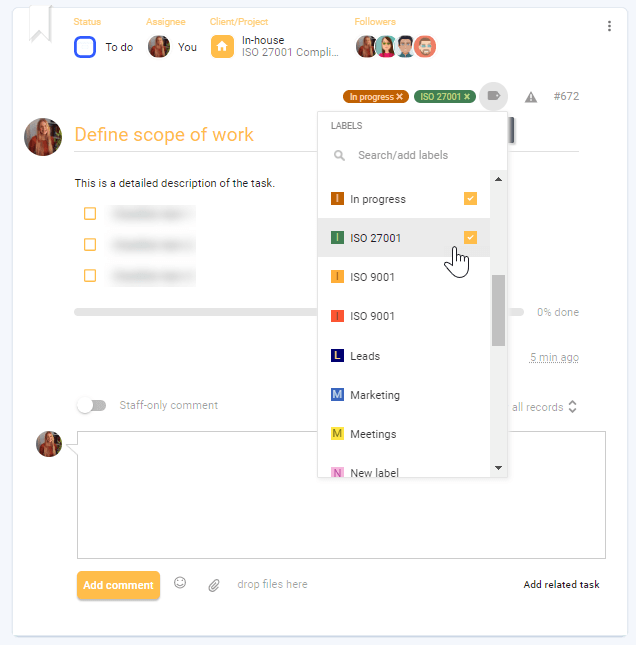 Mark tasks with custom labels as suits your workflow. Link to subtasks directly on tasks. Find any task in seconds with a comprehensive but easy-to-use task filter.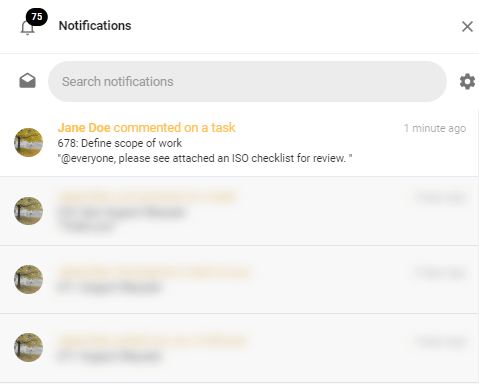 Receive automated alerts and notifications as tasks reach due dates, are commented on, and move through your workflow from start to finish.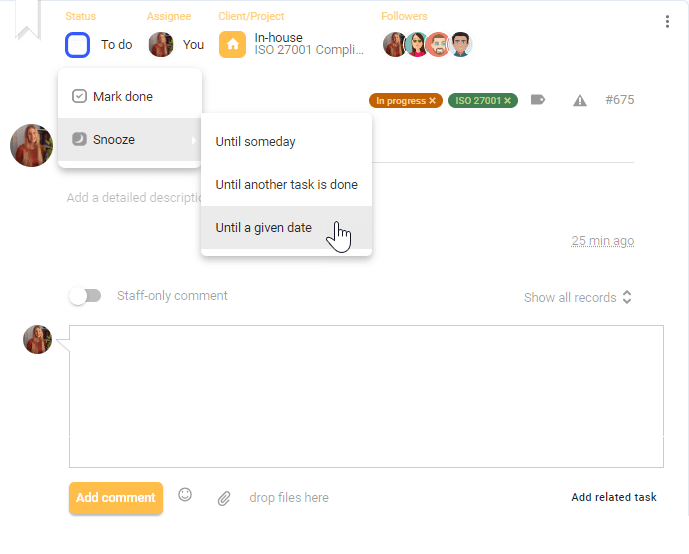 Easily manage and stay up to date with ongoing obligations with todo.vu's repeating tasks feature. Set tasks to automatically move from a dormant to actionable state after a specified date or rule. Use Project Templates to create a series of tasks in just a few clicks.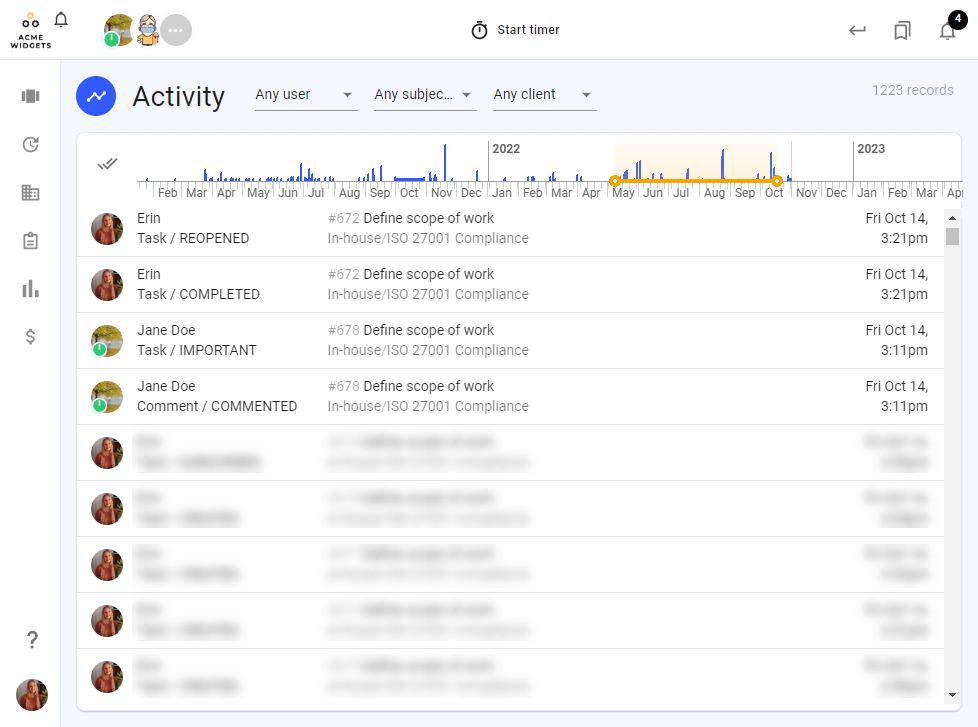 Track every activity on any task from the very start. See who's doing what, when, in real time. Export detailed time reports and share with relevant parties with ease.

As a cloud system, todo.vu records every user's interaction with compliance tasks in real time, and allows users to collaborate and communicate directly on tasks.
Together with the ability to track annotated time to any task, this means you'll know exactly what work – by which team member – went into every activity, and can keep a detailed record of all activity on a task, including conversations.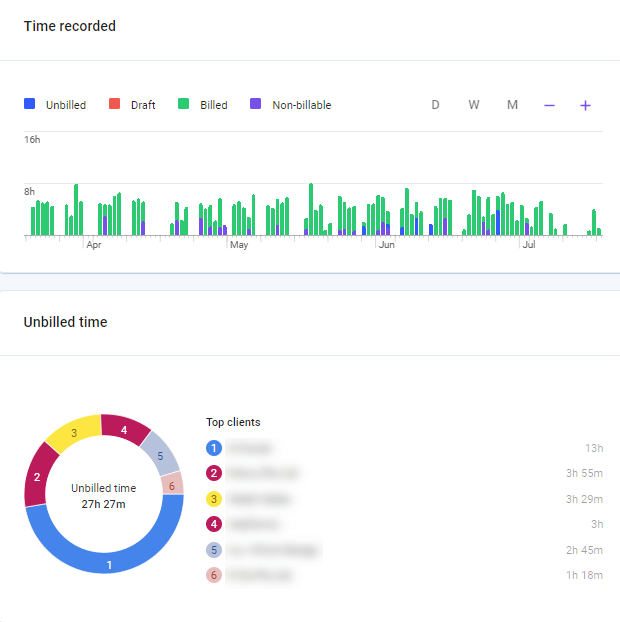 In todo.vu, time is tracked directly to your tasks, which are connected to clients and projects–even projects that are in-house and not billable.
That means every minute of your work is easily accounted for, giving you incredible insights on your habits, workflows and processes, and the power to improve them.
Get certified to the world's best-known standards quicker – including ISO 27001 and SOC 2 – and showcase your business's credibility and commitment to quality while reaping the benefits inherent of great management practices.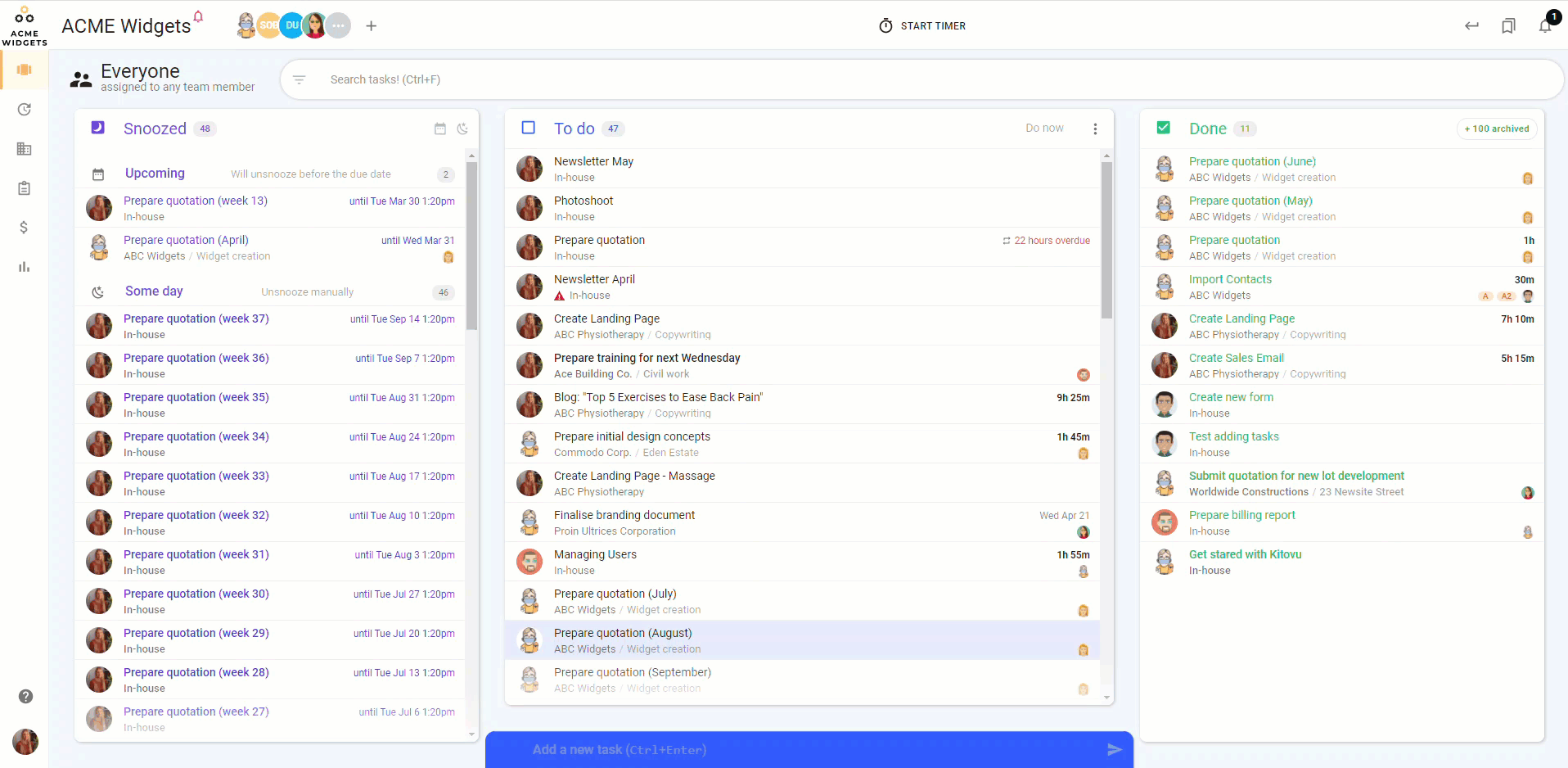 Integrated compliance & task management​
todo.vu is not just simple compliance software for small businesses; it's task management, time tracking and billing as well.
Tasks can be anything: work instructions, meetings, phone calls, and the various deliverables of a multi-phase project – you decide!
Time can be tracked and recorded directly on these tasks and, if they're billable, you can track this time at your own charge-out rates as well.
Valuable business reporting
As every minute of your work can be easily accounted for, you gain access to incredible insights on your habits, workflows and processes–and the power to improve them.
Accurate billing
Time and cost totals are automatically calculated when you're working on billable tasks, so when the time comes, you can raise detailed, itemized billing reports in just a few clicks.
Start using todo.vu right away
SOLO FREE
ideal for freelancers
Simple CRM

Task management

Time tracking

Reports & Billing

1Gb Storage

No credit card required

One staff user
BUSINESS TIME
tasks time and billing for teams
Simple CRM

Task management

Time tracking

Reports & Billing

2Gb Storage per user

Priority support

Capped at $99/month*
*Never pay more than the capped price, no matter how many users you add.
All workspaces start with a 14-day trial period with all features enabled and unlimited users.
During the trial, we reward you for exploring todo.vu by giving credit for performing various actions in your workspace. It's like an Easter egg hunt!
After the end of the trial, the credit you have earned will reduce the cost of your subscription. Or you can decide to use our Free Solo plan forever.