When running a small business or setting up a small business, many people don't consider just how much clients judge you on the quality of your presentation, even before they have the chance to judge you on your work. You may be the best, but if your proposal doesn't stand out like top quality marketing material, your great services can often be overseen. Particularly if your the small guy competing with the big guys, who have an entire department dedicated to creating these proposal, marketing and sales materials for them.
Presentation is everything, and unless you are a designer, chances are you aren't going to have the skills to whip together a proposal that is able to compete with that of a larger organisation based on aesthetics. This is where proposal software comes in handy. Today there are a variety of businesses out there offering small businesses easy access to proposal, sales and marketing templates which are beautifully designed and require no creative skills from the user.
What is proposal software
Proposal software takes the onus off of businesses having to spend valuable time custom designing proposals and sales and marketing resources. Beyond being a document creation solution, proposal software platforms generally also have built-in features which allow businesses to track proposals and, on some plans, add "accept" buttons making the submission and acceptance process seamless.
No longer just for small businesses, proposal software is now also popular amongst large corporates and even the creative agencies that would have once been responsible for designing all of these materials for you.
Of course, there are differences between each of the proposal platforms, Qwilr, for example, is aesthetic first. They put a big focus on beautiful, modern and web-based designs that are visually stunning. Proposify's focus is on streamlining the sales process to help you close deals faster. Then, you have PandaDoc, which also has more emphasis on how you create, send, and track sales documents.
Qwilr – Beautiful proposals, sales, and marketing documents

Qwilr, much like us at todo.vu, is an Aussie startup working to make small businesses more effective. Qwilr re-imagined what pitch decks and PDF's should be in the age of the internet, and created a platform for any business to create communications tools that look elegant and professional.
In our humble opinion, of all of the proposal software on the market, Qwilr is the standout. While the others put the focus on the process, Qwilr puts sleek design front and centre. They have all of the features of the other platforms when it comes to integrations, and easy accept buttons, etc., but they don't see the improved process as being the only key factor in winning deals. They understand the power of visually beautiful documents, making them easy to track and accept is just the natural next step.
Why is the aesthetic so important? Much like we've all been told since we were kids, you should dress to impress. You wouldn't attend a professional meeting in flip-flops, even when you know that it's your knowledge that you should be judged on, not your shoes. Presenting yourself and your business in the most professional light is more about showing that you respect the client's time and care enough to make some extra efforts. With so many tools now available to help you put together professional quality presentations — for a minimal fee, sometimes even free — there is no excuse not to use them. If you don't, your competitors will and you will risk losing out on a pitch.
Features available depend on the type of plan you opt for, but the total of their features include:
Qwilrs
PDF Export

Google Fonts

Template Library

Saved Blocks Library

Unlimited Qwilrs

Custom Subdomain

Typekit Fonts

Data Merge via CRM/CSV

Remove Qwilr Badge

Remove Qwilr Branding

Custom Domain

Custom Webfonts

Custom Template Conversion
Security and analysis
View Notifications

Time Limits

View Limits

View Analytics

Passwords
Sales tools
Interactive Quoting

Accept Button

Instant Payments

E-Signatures

Audit Trail

Custom Accept Form
Integrations
Accounting Integrations

Slack Integration

Zapier Integration

CRM Integrations

Qwilr API Access
Support
Help Docs

Email Support

Priority Email Support

Account Manager
Qwilr also has a super handy YouTube channel, making it easy to quickly find answers to any questions and watch tutorials to learn how to utilise all the features on their platform accurately.
Qwilr pricing
Qwilr has pricing tailored for the solo user, right the way through to enterprise clients.
Starter plan
Free for solo users

Ideal for marketing and outreach
Users can create brochures, job ads, newsletters, and events.
Pro plan
$29 p/m

$15 p/user

3 users included
The pro plan adds their pricing and acceptance tools for sales, proposals, and quotes.
Business plan
$79 p/m

$20 p/user

3 users included
The Business plan includes e-signatures, teams, and collaboration solutions for larger businesses.
Enterprise plan
$3000 p/year

$300 p/user

10 users included
The Enterprise plan is designed for big teams and businesses and offers API access for large-scale automation.
You can check out more details on their pricing plans here.
Qwilr meets todo.vu
Used in unison, todo.vu, proposal software like Qwilr, and invoicing systems like InvoiceBerry, help small businesses to boost productivity significantly. Once you have a successful proposal, you need to follow through with a quality delivery.
If you win a project that you proposed in Qwilr, then you can translate your quote line items In Qwilr directly into projects or tasks in todo.vu and set budgets on them. Qwilr helps you to win the business, todo.vu allows you to manage and track your time and tasks.
Co-adoption, allows you to track your development costs against your original quoted items. It will also result in a billing report that is directly aligned with the original quotation.
It may be broken up like so: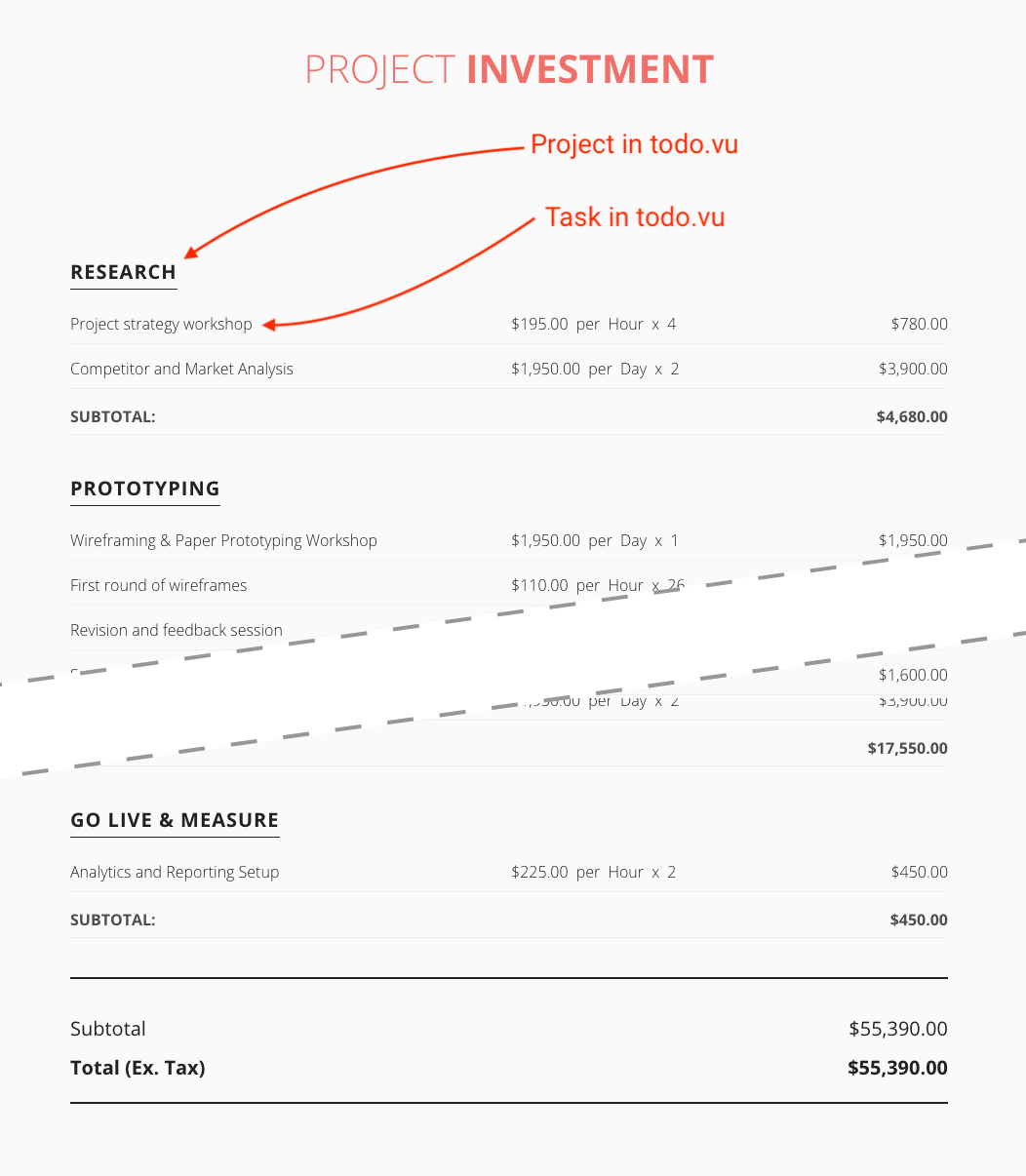 Time saved preparing documents and proposals is time that can be spent on doing the work you love and the work that brings in revenue for your business.