As the world has shifted online, we have all learnt just how valuable data is. It has shaped how decisions are made and altered the way that businesses operate. Understanding your customers and how your company performs internally, is the key to improving efficiencies and increasing profits.
Whatever your todo.vu plan, you will have noticed that we love to help you better understand your business through data. todo.vu was designed to make you more productive, through our task management platform which captures valuable information to help you better analyse your business performance and provide more comprehensive billing information for your clients.
Accessing your business data
By capturing information on each of your tasks, projects, clients, billing rates and hours, todo.vu allows you to build up comprehensive reports which can be easily exported into Google sheets for additional analysis.
From the Billing tab, the "$" icon on the left sidebar, you will find the "Analysis and Export" option.*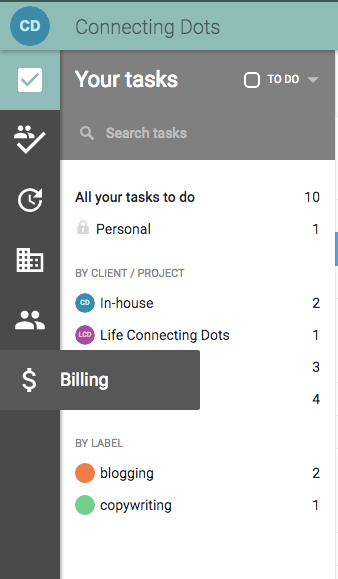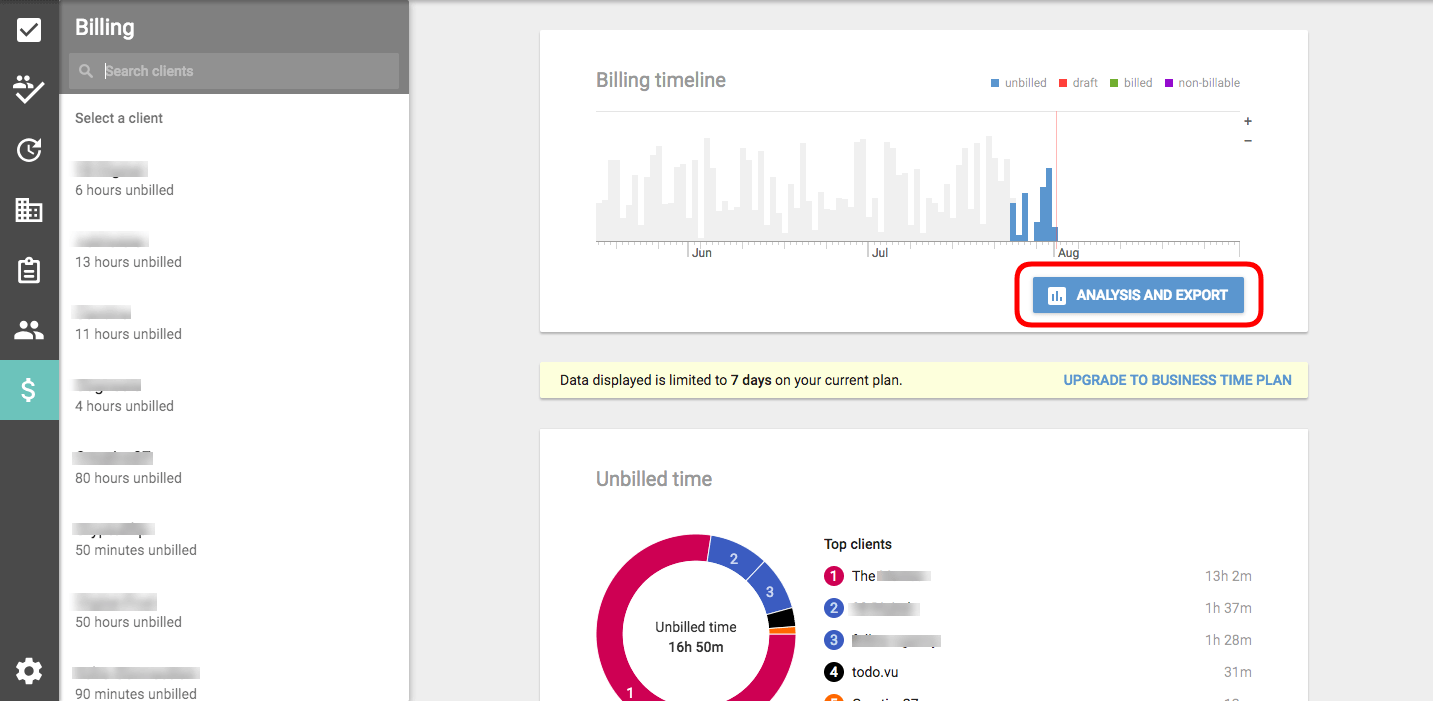 * Please note that all plans can view this, however, the Solo plan and Team Premium plan are limited to just seven days of data, as seen above.
The Business Time plan has unlimited historical data: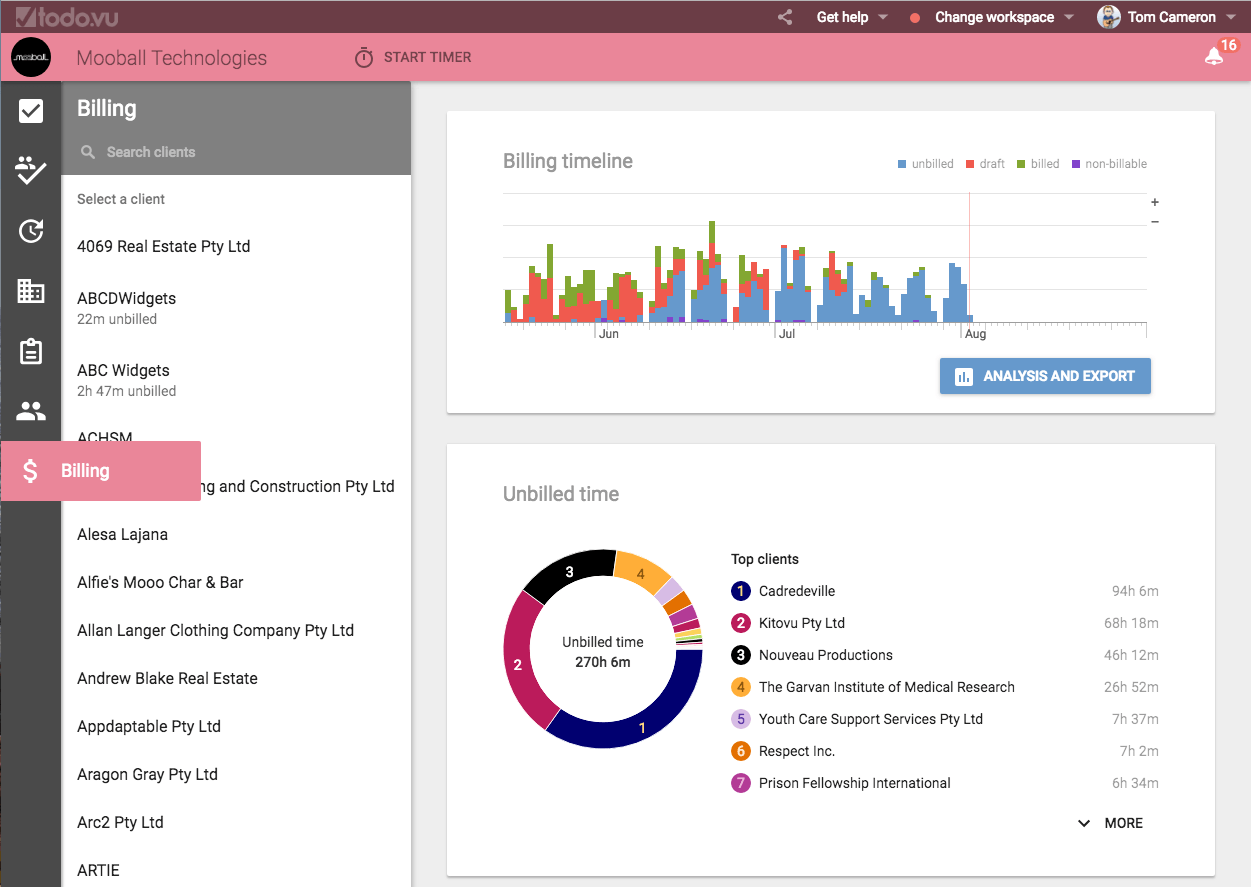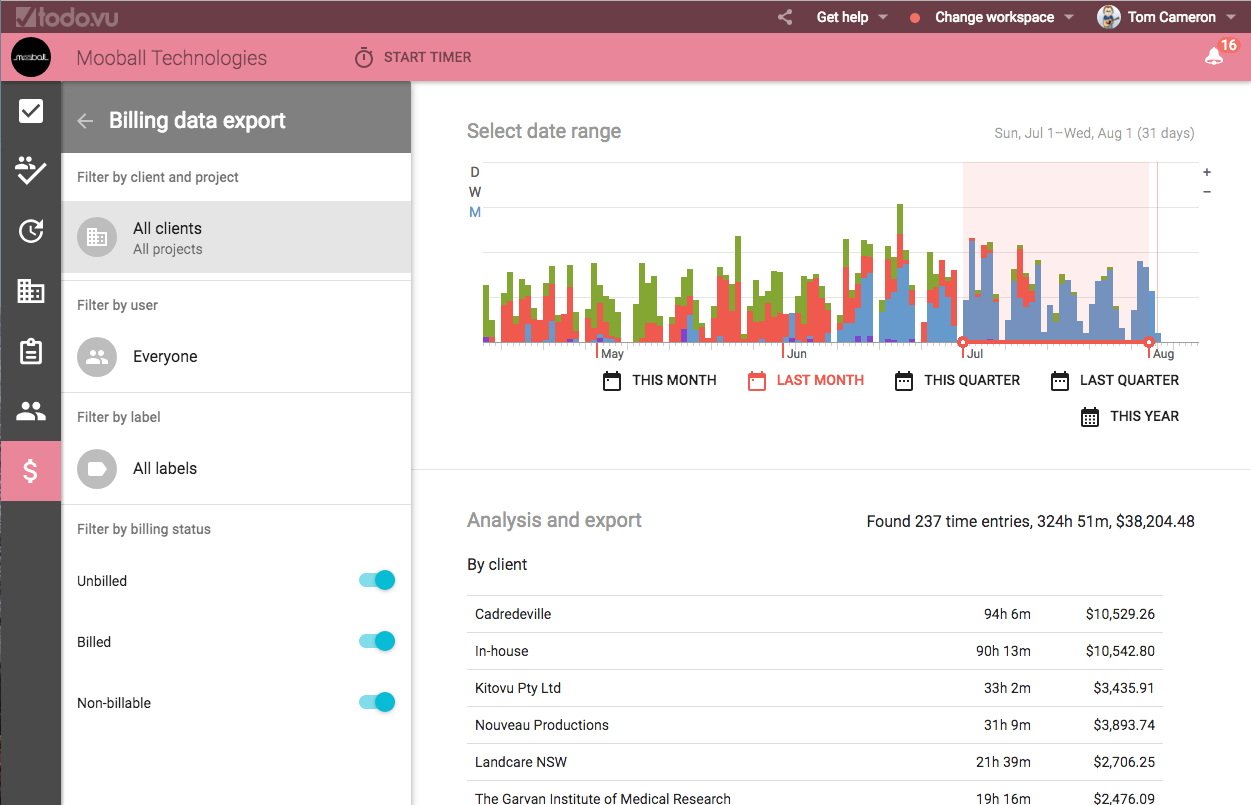 Leveraging data to empower your business
With comprehensive data on your tasks, projects, clients, billing rates and hours, you can begin to ask yourself questions such as:
Which employee billed the most in June?

Which customer gave us the most work last quarter?

Which customer did Bob do the most work for last year?
You can also interrogate individual clients data to see the amount of work they bring in for any period.
This feature allows you to reflect on your business and understand where your revenue comes from. All of this analysis can be done on the todo.vu platform.
Analysis and Export
On the Analysis and Export page, you will be able to see the filtering and analysis section. You will notice that all hours are presented by default; Unbilled, Billed and Non-billable. This can be filtered based on the analysis you would like to perform.
In this section you can:
Filter by Date range

Filter by Client and Project

Filter by User

Filter by Label

Filter by Billing status
For detailed instructions on filtering time reports, you can visit our how-to page here.
Exporting to Google Sheets for more in-depth business analysis
Exporting your business's data to Google Sheets allows you to do a more mathematical analysis of your data, such as working out your average billing rates, or average hours billed each month.
We recommend exporting your data without any filters so that you have a complete picture of your business to be analysed.  
To export your data, scroll to the bottom of the Analysis and Export page and click on the Export to Google Sheets button.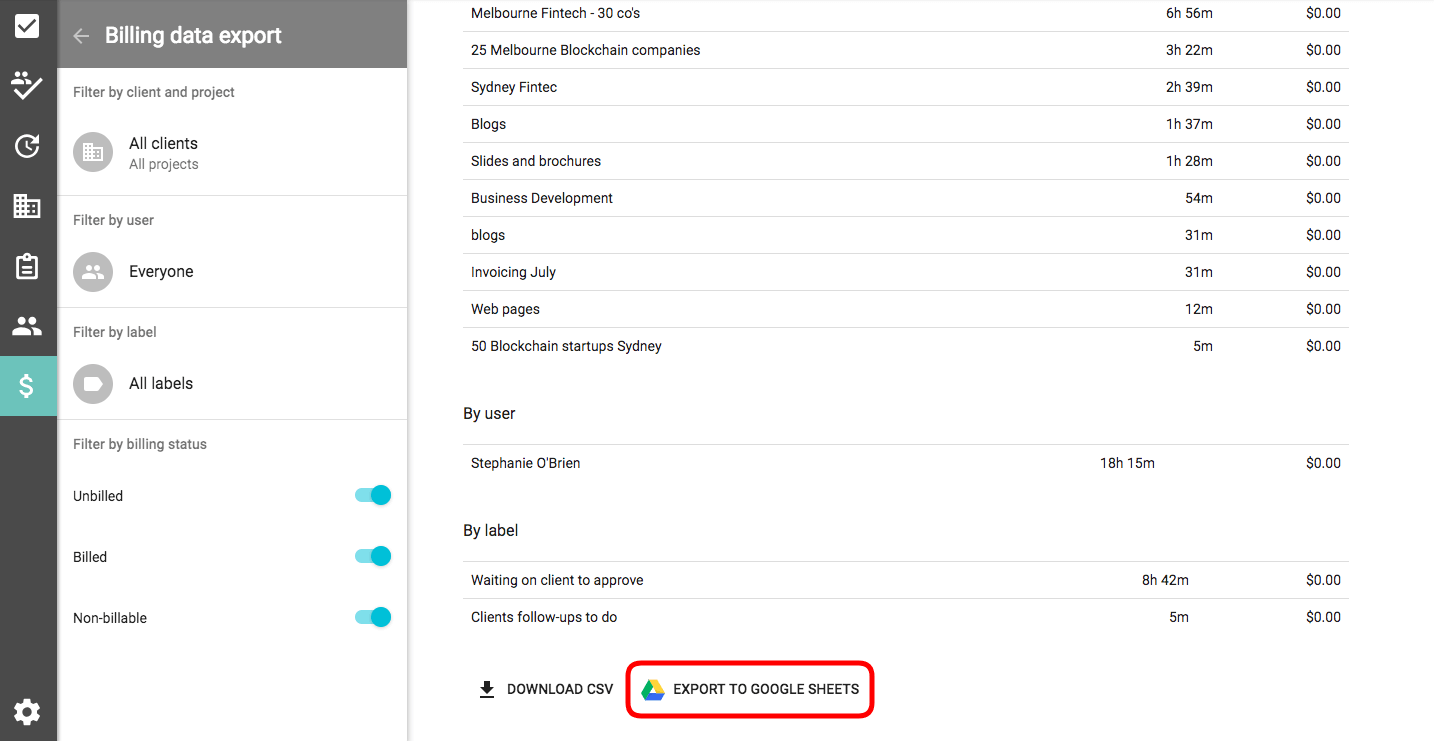 Using Google Sheets analysis for custom client reports
Not only does exporting to Google Sheets help you to dig deeper into your business performance, but this information can also be used to produce custom charts for your clients.
Perhaps you would like to hide or highlight specific information in your billing reports, exporting this information allows you to subtract or add whatever information you desire, tailoring it to your client and the information you want to share.
Upgrade to Business Time today
For just $9 per user, your business can have unlimited historical data insights invaluable for understanding your business and increasing your productivity and profitability.
Business Time users have unlimited access to all todo.vu features and support, including:
CRM

Task management

Time tracking,

Reports & Billing

2Gb Storage per user

Priority support
Upgrade or sign up here today.