It's like a treasure hunt
Learning how to use a new system is not always fun, as it can often be irritatingly time-consuming. To counter the frustration of learning a new system, todo.vu set up a way to reward your efforts and add a bit of fun to the process. We have done this through our Referral and Credits system.
todo.vu Credits
Credits are measured in a Dollar ($) value and are awarded based on your activities. Some activities are rewarded only once, some are rewarded multiple times, and some rewards diminish in value over time — we keep the exact details a secret to create a treasure hunt of sorts, to find all the rewards.
You will know that you've earned credit when you hear the 'cha-ching' sound!
Expiry
All credits have an expiry date. This is either within 30 days or 12 months. Most credits will only last 30 days, so if you want to take advantage of them, you need to allocate them within that time. Credits relating to referrals of other users will last for 12 months.
Examples
Here are some examples of the credits we offer for particular behaviours on the platform.
Add task – $1 multiple times

Email in a task – $4

Mark task done – $1

Add comments to task – $0.5

Time entry – $1 multiple times

Invite a user – $1 multiple times

Invited user joins – $5 (expires in 1y)

Invited user subscribes – $10 (expires in 1y)
There are many other ways to earn credits – you will just have to hunt for them!
Bonus for making others work
If you refer someone to todo.vu, and they join, you are further rewarded 50% of the value of the credits that they earn. So, not only is it rewarding to invite other people to todo.vu but it also pays to encourage them to be active. The more they work, the more you earn.
What can you do with credits?
Credits can be allocated to any of your workspaces, and they will then be consumed to pay for your charges.
You must manually allocate credits for them to be of any value. This is because you may have multiple workspaces or you may earn credits and want to allocate them towards a new workspace not yet created.
Once you allocate credit to a workspace, it will no longer expire – it will remain a positive value on your account until it is consumed by your regular fees. Whereas, if you don't allocate them, they will eventually expire.
Credits are earned by individual people, and they can choose how to use them. For instance, you may have a team of 10 staff – all of them will earn their own credits. You may be able to sweet talk them into allocating the credits to your workspace, but your staff may well choose to set up their own private workspace and allocate the credits to that workspace.
Where can you see your credits?
Click on your name (top right) and then go to "Referrals & Credit"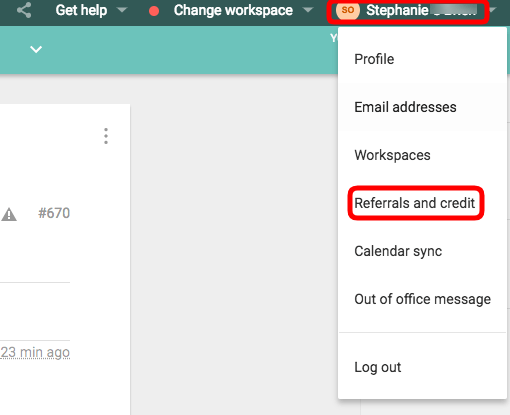 In this section, you can view your personal credits, how many people you have referred, how to refer others, and all of your previous credits.
Overview of credits and number people referred
As soon as you click on "Referrals & Credit", the main page will come up, and you will see along the top "Your personal credit:" and "Your referrals:" – this is your quick view of Referrals and Credit activity.

Referring people to todo.vu
In the Referrals & Credit area, you will see your own unique referral URL. If you ever want to invite someone to todo.vu then you should send them this URL so that you get rewarded for the invitation.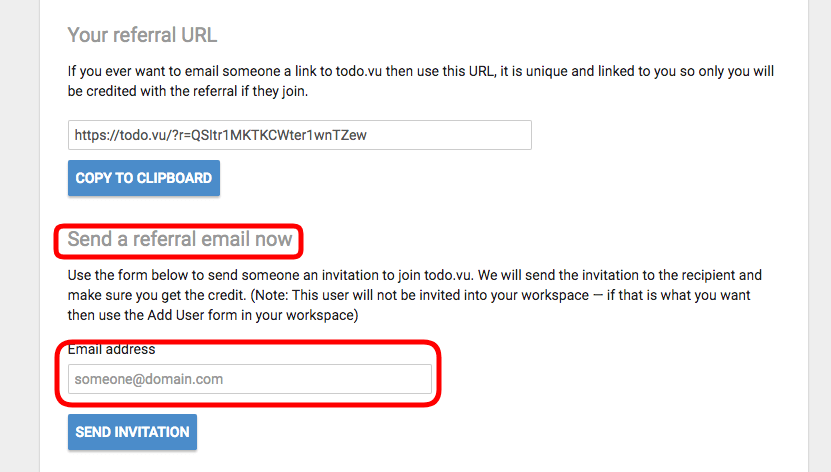 There is also an option to email a referral form to invite someone. Simply enter their email address and click "send invitation".
Reward history
The final section on the Referrals and Credits page is the "Your rewards" section, which details all of the rewards you have earned in the past. Here you can see the value of each action you have taken.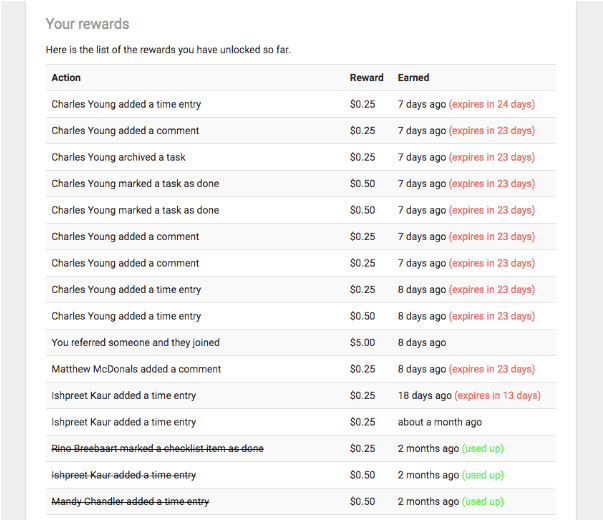 Allocating your credit
If you have credit, then you can allocate it towards one of your workspaces. If you have more than one workspace, then you can choose which one to allocate it to.  Of course, the credits are only useful on paid workspaces so you may need to upgrade your workspace in order to allocate the credit.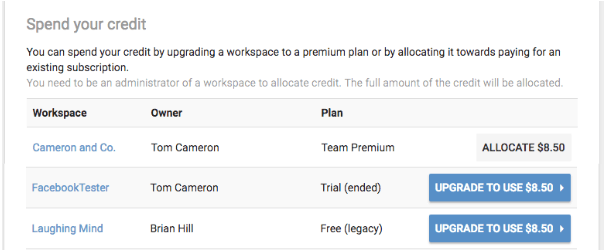 Never ending rewards
While you will likely earn most of your credits during the trial period, there is no limit to when you can earn credits. Even if you have already signed up to todo.vu you can continue earning credits for various activities, and you can continue to allocate them to your workspace to save money.
If you actively recruit new people to todo.vu you may well be able to have a free premium workspace indefinitely. Inviting two new users per month will cover the cost of a Business Time workspace for one user.